Are you planning to visit Rouen in 1 day? Excellent decision, you won't get bored!
The town has charmed us with its rich historical heritage and colorful half-timbered houses. The capital of Normandy is full of surprises, whatever your interests. There's something for everyone:history, gastronomy andart are all very present. Cathedrals, churches, museums, restaurants and other good addresses abound.
In this article, we offer practical advice and plenty of photos to help you make up your own mind about this destination. Our detailed 1-day itineraries will make sure you don't miss a thing!
This review is completely independent, we stayed anonymously and paid our bill in full.
Video: the best things to do in Rouen
Before we unveil our 1-day itineraries in Rouen, here's a short video to give you a taste of what's on!
Practical tips for visiting Rouen in 1 day
The weather in Rouen
Summers in Normandy are generally mild to hot. Autumns are cool and often rainy, while winters are really cold. Springs are particularly pleasant and marked by abundant flowering. It's always a good idea to check the weather forecast before your visit, so you can be better prepared for the conditions.
The weather in Rouen can be unpredictable, with frequent alternations between rain and sunshine. The sky is often overcast. This can make planning outdoor activities more difficult. We recommend indoor activities in case of rain. In fact, we've written an article on the 10 best museums in the city if you're looking for a sheltered activity.
Walk or take public transport
The vast majority of tourist attractions are concentrated in Rouen's city center. This makes it a pleasure to walk straight through the city. To give you an example, the 2 must-see places during your stay are only 350m apart. Walking from Notre-Dame Cathedral to the Gros-Horloge, you'll have plenty of time to appreciate the beauty of the historic center. In fact, it was while we were out and about that we discovered some very good addresses, which are featured in our article on the 20 best restaurants in Rouen.
To get around more quickly, you can also opt for public transport. The city's Astuce network is well developed. There's a wide range of services including bus, metro, TEOR and FAST lines. The city's various points of interest are easily accessible via these means of transport.
Affluence and anticipation of bookings
Rouen is a popular destination in Normandy, especially during the summer months. If you don't like crowds, we recommend going out of season.
Rouen is a busy place overall, and not just during the summer vacations. This can lead to longer queues at tourist attractions and popular restaurants. We advise you to take this into account when planning your visit to avoid any inconvenience. Hotels can also quickly become overcrowded. Check availability for your dates now, or see our article on the best hotels to stay at in Rouen.
Map of Rouen's main museums
Choose the Rouen Pass
Since June 2023, you can explore the city with the Rouen Pass. Available in 24h, 48h or 72h formulas, this tourist pass offers special rates on public transport, guided tours, sites and monuments, cruises, accommodation and restaurants. Among the museums included in this pass are the Historial Jeanne d'Arc, and temporary exhibitions at the Musée des Beaux-Arts and the Musée Industriel de la Corderie Vallois. Visit their official website to find out more.
Where to sleep in Rouen
---
Option 1: in the old town center
A charming historic heart, museums and attractions around every corner… We recommend..:
---
Option 2: near the station
Just a 10-minute walk from the historic center, you'll find more modern options. We recommend..:
Option 1 – Rouen's must-sees in 1 day
Ready for an express 1-day tour of Rouen? Fasten your seatbelts, it's time to start the adventure!
9-10am: stroll through Rouen's historic center
If you arrive in Rouen by train, you'll disembark at the station, about a 10-minute walk from the city center. However, if you choose to drive, we advise you to park in the cathedral parking lot. This way, all you have to do is step outside and you'll be right back in the historic center.
A stroll through the cobbled streets will give you a taste of the city's many attractions. Around every corner, we discovered architectural treasures. In this case, it was the Palais de Justice. It is listed as a historic monument. In addition to its judicial function, the building is also a tourist attraction due to its architectural beauty and history. Its imposing façade and many details make it a must-see when visiting Rouen.
A visit to Old Rouen and its medieval streets will transport you to another era. If you'd like to discover the city from a different angle and have a little more time, we recommend a personalized private tour with a local guide. It's a fun and rewarding experience. There's no one better than a local to talk about his town!
---
Discover our guided tours of Rouen's historic center!
---
FOR ADVICE ON


QUALITY

Support us
Do you appreciate all the free content you find on our blog?
Our independence, the only guarantee of qualitytips, is partly based on your generosity!
We offer you to give us a coffee (or several) in the hope of sharing it with you one day in person!
10-11am: visit Notre-Dame Cathedral
A 1st stop is necessary and not the least! A jewel of flamboyant Gothic architecture, Rouen Cathedral is a must-see when visiting the city. Admirers of the Gothic style, we marveled at the church's façade. The closer we got, the more we could appreciate the extraordinary architectural work carried out on this religious building. Are you also impressed by all these details?
Once inside the cathedral, we discovered a number of historical treasures, including the tomb of Richard the Lionheart. The interior is equally magnificent. The columns and vaulted ceilings bear witness to the elaborate architecture. The atmosphere in the church is peaceful. It's an ideal place to pause for a few moments and appreciate the immensity of the religious building.
---
Discover our 15 must-do activities in Rouen.
---
11am-12pm: discover the Gros Horloge
Just a stone's throw from the cathedral, we then visited the city's most emblematic landmark: the Gros Horloge. Have you ever heard of this historic monument? This 14th-century astronomical clock is located in the heart of Normandy. From the street, the low-angle view of the building is impressive. The richness of the sculpted details on the façade is truly impressive.
As we climbed the stairs to its tower, we were rewarded with a panoramic view of Rouen's rooftops. The interior of the Gros-Horloge also houses a museum that allowed us to delve into the fascinating history of this incredible timepiece. The visit helped us better appreciate the importance of this symbol of the city and its rich history.
---
See our article on the Gros-Horloge.
---
12pm-2pm: lunch at one of our favourite restaurants!
After so many visits, it's time for lunch! We wanted to share with you 2 of our favorite restaurants to whet your appetite:
Restaurant L'Odas (1 star): an excellent Michelin-starred establishment in Rouen orchestrated by chef Olivier Da Silva. The menu between land and sea offers several different rhythms: between 3 and 7 beats at lunchtime or 5 and 7 beats in the evening. The chef's wonders are tasted blind, and our taste buds remember them!
---
Dedicated article available soon.
---
Restaurant Les Nymphéas: housed in a beautiful half-timbered house, you'll find Norman traditions revisited on your plate. French gastronomy is sublimated by chef Alexandre Dessaux's savoir-faire: lobster tail à l'armoricaine, oxtail and beef cheek terrine, veal kidneys, duck breast or apple soufflé flambéed in Calvados, there's something for everyone.
---
Discover our selection of the 20 best restaurants to eat out in Rouen.
---
2pm-3pm: visit Place du Vieux-Marché and its church
After a good meal, it's off again for the day's itinerary! But you don't have to go far: just a few meters away, you'll find a well-known esplanade. The capital of Normandy has a special relationship with Joan of Arc. Her role as a military leader during the Hundred Years' War and her martyrdom in Rouen make her a revered national heroine. Imbued with its tragic destiny, the Place du Vieux-Marché is a must-see during your stay in Rouen. It was there that she was burnt at the stake at the age of 19. We had trouble picturing the scene, so full of life and joy is this square right now.
Once you've reached the Place du Vieux-Marché, you'll have a bird's eye view of the Église Sainte-Jeanne-d'Arc. Its exterior is rather original, isn't it? Its modern architecture, reminiscent of the sea, appealed to us. It's an emblematic building dedicated to the memory of the illustrious heroine. Its bold design captivated us from the moment we arrived. As we stepped inside, we were impressed by the peaceful atmosphere, creating a space conducive to reflection and contemplation.
---
Discover our guided tours of Rouen's historic center!
---
15h-16h30: visit the Joan of Arc Museum (Historial)
To continue retracing the history of Joan of Arc through the city, it's time to visit the historial dedicated to her. During our visit, we were transported back to her trial in 1431, during which she was tried and sentenced to death. Thanks to the museum's immersive tour, we immersed ourselves in the history of the famous Pucelle d'Orléans. The historial retraces in particular the end of the young woman's life, and her passage to posterity. We recommend this educational and entertaining experience.
---
Read our article on the Joan of Arc Museum.
---
16:30-17:30: Snack break at the Dame Cakes tea room
Are your stomachs starting to rumble? Just the thing, it's snack time! You'll love the Dame Cakes Tea Room. Housed in a former wrought-iron workshop, it is one of our sweet favourites. We tasted delicious home-made pastries made from seasonal produce.
The retro decor lends the premises a romantic ambience. We could easily have imagined a writer settling here to write a story inspired by Rouen. After this little gourmet break, you'll have plenty of energy to continue your tour of the city. It hides many more culinary and historical treasures!
---
Our article on the Dame Cakes Tearoom will be available soon.
---
17:30-18:30: discover the Aître and Saint Maclou Church
You'll be invigorated? Perfect! We continue our day in the direction of the Church of Saint Maclou, just a few steps away. This religious monument is another of the city's Gothic masterpieces, known for its unique architecture and sculpted details. Less impressive than the cathedral, it's still worth a visit!
Next to the church, our attention was drawn to the leaning house. As we approached this iconic building, we were amused by its sloping appearance, which created a surprising illusion. The destruction of the adjoining houses led to this unique architectural feature. If you're creative, you can take original photos of this unique place!
Hidden behind the religious building is the Aître Saint-Maclou. Access is via a passageway at 186 rue Martainville. This unique historic site is imbued with a mysterious atmosphere and macabre beauty. An "aître" is a piece of open land and/or a covered passageway used as a cemetery. The half-timbered galleries surrounding the inner courtyard house ossuaries and sculpted tombs. This bears witness to the town's dark past, when it was struck by the plague. Mysterious, isn't it?
---
Find out more about the secret history of the Aître Saint-Maclou!
---
6:30pm-7pm: discover the Abbey of Saint-Ouen
Our last visit of the day takes us to the Abbatiale Saint-Ouen. It's a magnificent Gothic church renowned for its splendor and grandeur. It's one of the city's architectural treasures. It is also famous for its impressive Cavaillé-Coll organ, renowned for its powerful, sonorous sound. We recently wrote an article on Notre-Dame de Bayeux Cathedral, which also boasts a Cavaillé-Coll organ. Our visit to Saint-Ouen Abbey was both a spiritual and aesthetic experience, as we admired the city's religious heritage.
---
Coming soon, our article on the Abbatiale Saint-Ouen.
---
7-8:30pm: try a bistronomic restaurant
Do you still have a little time before you pack your bags? Just a 2-minute walk from the abbey, we highly recommend you try Restaurant L'Épicurius. Refinement, color, terroir and creaminess are all on the menu of this bistronomic establishment. Chef Quentin Le Deunff and his team invite you on a culinary journey punctuated by their passion for gastronomy and the art of entertaining. In a warm, subdued atmosphere, we enjoyed our delicious meal in this intimate cocoon.
---
Coming soon, our dedicated article.
---
USE OUR GUIDE TO PLAN A


DREAM TRIP

TO

Normandy
All the information you need for your trip:
8 maps that make planning easier
160+ pre-selected locations
Practical advice
300+ photos to help you choose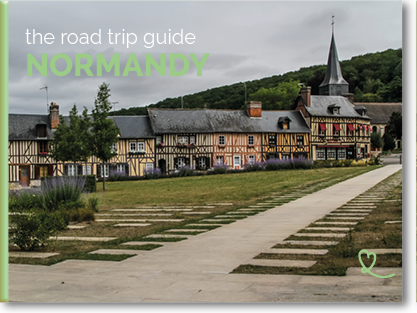 Option 2 – 1 day in Rouen: in the footsteps of Joan of Arc
To better understand the special relationship between Rouen and its favorite, we've put together a tour of the city in Joan of Arc's footsteps.
10h-11h30: visit the Historial Jeanne d'Arc
To begin your itinerary in honor of the young heroine, we recommend a visit to her historial. Through an immersive journey, you'll discover the history of the company right up to its posterity. Indeed, the archiepiscopal palace was the setting for the 2 trials of Joan of Arc. With its large surface area and innovative staging, we're sure you'll find this museum both appealing and educational!
11:30am-12pm: visit the Church of Sainte-Jeanne-d'Arc
Whether you're a believer or simply curious, a visit to Sainte-Jeanne-d'Arc Church is a spiritual and cultural experience not to be missed! Built as a tribute to the Pucelle d'Orléans, its modern design sets it apart from the city's other religious buildings. Its imposing sail-shaped spire and luminous interior make it a unique architectural treasure. We were impressed by the magnificent, colorful stained glass windows, which depict the young woman's life.
12:00-12:30: explore Place du Vieux-Marché
It's impossible to pass by the Place du Vieux-Marché without paying homage to Joan of Arc. It was there that she was condemned and executed by the British, forever marking the pages of history. Surprisingly, its cult almost disappeared in the 17th and 18th centuries. It was the excesses of the Revolution that curiously allowed it to regain a place in the French national narrative in the 19th century. We found this esplanade very cheerful and central to the life of the locals. No time for a drink now, but don't worry, it's on our itinerary!
12:30-14:30: lunch at Restaurant Le Jehanne
Are your stomachs rumbling? Perfect timing, it's lunchtime! Head for the Tour Jeanne d'Arc, at the foot of which nestles Restaurant Le Jehanne. The location is beautiful, and you can enjoy a view of the Donjon de Rouen from the outdoor terrace. We were won over by its refined, authentic setting and traditional bistro cuisine. It features in our selection of the best restaurants in Rouen.
---
Our article on Restaurant Le Jehanne (Blu Radisson Hotel) will be available soon.
---
2:30-4pm: an escape game at the Donjon de Rouen
Have you regained your strength in this unique setting? So let's get on with the adventure! You don't have to go far, as you're about to enter the Tour Jeanne d'Arc. The last remaining vestige of the Château de Rouen, the Donjon de Rouen has become the setting for an escape game. If you like logic games, you'll love this fun and interactive experience that takes you back to 1944!
16h-17h30: visit the Musée des Beaux-Arts
Located right in the heart of the city, the museum's great diversity won us over. We were completely enchanted by the richness of its collections, from Caravaggio to Modigliani, via the essential figure of Impressionism, Claude Monet. Joan of Arc obviously had a place in the museum! We really enjoyed the exhibition about him, which combines paintings, photographs and bronze sculptures. It reveals the different facets of the heroine, and the construction of a veritable myth.
---
Read our article on the Musée des Beaux-Arts.
---
5:30-6pm: Taste local specialities
Your day's itinerary is almost complete, but before you pack your bags, we warmly recommend that you stock up on local produce. Take this opportunity to buy local specialties, such as "Larmes de Jeanne d'Arc", traditional Normandy pastries made from almonds, sugar, chocolate and cocoa. You'll have to make a detour to Chocolaterie Auzou in Rouen to find some!
6pm-7pm: a nightcap at Restaurant La Couronne
To complete the circle, we recommend returning to the Place du Vieux-Marché, and settling down for a drink on the terrace of Restaurant La Couronne. This Rouen institution is one of the oldest inns in France. If you have a little time, we recommend you eat there. Chef Vincent Taillefer and his brigade offer a range of menus, from €29 to €83 per person, to help you (re)discover delicious Normandy specialities. It's one of the last establishments to prepare and serve Rouen-style duck, or canard au sang, one of the city's signature dishes.
---
Dedicated article available soon.
---
OUR ADVICE FOR

RENTING A CAR

IN

Normandy
Compare prices on our preferred platform: DiscoverCars – one of the best rated sites.
Choose a car that is comfortable enough (distances can be long) but compact (some parking lots and villages are narrow).
Think of thecomplete insurance (some roads are tortuous and narrow).
There is a lot of demand, book it early.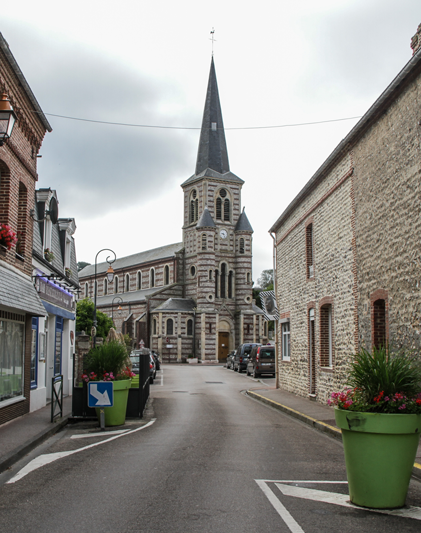 Option 3 – 1 day of free activities in Rouen
If you'd like to spend a day in Rouen on a limited budget, it's perfectly possible! There are lots of free activities to do, including a great range of cultural events. In fact, we've written an article on the best museums in the area, most of which are free to visit.
10-11am: Option 1 – visit the Ironwork Museum
Are you curious? If so, you'll love Rouen's iron art museum, which hides many strange treasures. It is located right next to the Museum of Fine Arts. Housed in a former Gothic church, the Musée Le Secq des Tournelles is home to the world's largest collection of antique ironwork. Between signs, tools and scientific instruments, we discovered unique iron objects! We highly recommend a visit here. Although we weren't particularly interested in ironwork, we fell in love with the place.
---
Read our article dedicated to the Musée Le Secq des Tournelles.
---
10-11am: Option 2 – visit the Musée de la Céramique
Worried you're not interested enough in iron art? Don't worry, you'll find the Musée de la Céramique not far away. A must for craft enthusiasts. Discover the history of ceramics in Rouen through a variety of collections, from painted earthenware to delicate porcelain. We admired unique pieces and immersed ourselves in the creative world of ceramic artists. The museum also hosts temporary exhibitions featuring contemporary ceramics. An enriching visit for enthusiasts and amateurs alike!
---
Our article on the Musée de la Céramique will be available soon.
---
11am-12pm: Option 1 – visiting a museum with children
Museum of Education: explore the history of education through a rich collection of objects, documents and testimonials. A reconstructed classroom immersed us in the atmosphere of the time. In addition, interactive exhibits and fun activities made the visit informative and entertaining for the whole family. It's a unique opportunity to understand the importance of education in our society and how it has evolved over time.
---
Link to our dedicated article (coming soon).
---
Museum of Natural History: an ideal destination for a family visit, where you can discover the diversity of nature. Children will be curious about the animal species, minerals and fossils on display. It's an enriching experience that will stimulate their curiosity and interest in the natural world.
---
Coming soon, our article on Rouen's Natural History Museum.
---
11am-12pm: Option 2 – Visit the Museum of Antiquities
At the Museum of Antiquities, we were immersed in history through the centuries. You'll discover unique objects that bear witness to the daily lives of past civilizations. From Roman sculptures to medieval ceramics, each piece offers a captivating glimpse into the cultural evolution of different regions of the world. It was a very enriching experience that gave us a better appreciation of the region's historical heritage.
---
Link to our dedicated article (coming soon).
---
12pm-2pm: affordable kid-friendly restaurants
Aren't you getting hungry? Because we do! We've put together a small selection of affordable places to eat with your kids:
Restaurant La Crêperie rouennaise: located in the heart of Old Rouen, this establishment offers home-made crêpes and galettes in a warm atmosphere. The crêperie remains a timeless and sure-fire way to enjoy a balanced diet for young and old alike!
Restaurant Les gens heureux: its regularly renewed menu, downtown location and friendly atmosphere make it a must-visit address in Rouen. Whether you dine al fresco or indoors, you'll leave happy and smiling after a healthy meal in this charming, value-for-money venue.
Restaurant EMJI: healthy, sought-after eating is the promise of this Café-Restaurant where balanced meals are on offer. You'll find hot dishes of the day, savoury and sweet tarts, quiches, salads, as well as cakes and pastries – all homemade, of course!
---
Our dedicated article will be available soon.
---
2pm-4.30pm: exploring Rouen's churches
Rouen is Victor Hugo's "city of a hundred steeples chiming in the air". The Normandy capital's rich religious heritage explains why there are so many remarkable churches to visit. You can consult the official website of the Observatoire du Patrimoine Religieux, which lists them. In addition to the must-see Notre-Dame de Rouen Cathedral, the Abbatiale Saint-Ouen and the Église Sainte-Jeanne-d'Arc, we discovered other impressive buildings in the city.
The Église Saint-Maclou is another Gothic masterpiece, known for its unique architecture and sculpted details. There's also the Église Saint-Godard, with its magnificent stained-glass windows, and the Église Saint-Laurent, now home to the Musée de la ferronnerie. The architectural and historical diversity of Rouen's churches makes it a fascinating destination for the art and religious history lovers among you.
4:30 pm – 5:30 pm: Option 1 – Visit the Flaubert Museum and the History of Medicine
This museum offers a fascinating insight into the world of writer Gustave Flaubert and the history of medicine. In visiting this place, we explored the different facets of the author's life and work. Discover the Flaubert house and its family secrets! What's more, you'll have the chance to explore the history of medicine through rich exhibits and unusual objects. It's a unique experience that combines literature and science, two fields of major cultural importance.
---
Link to our article on the Musée Flaubert et d'histoire de la médecine (coming soon).
---
16:30-17:30: Option 2 – Visit the Pierre Corneille Museum (Maison Natale)
Pierre Corneille's birthplace is a must-see for lovers of literature and theater. It was in this historic house that one of France's greatest playwrights was born on June 6, 1606. A visit to this place steeped in history will allow you to discover the environment in which he grew up and drew his inspiration. Personal objects, manuscripts and period documents are on display, offering a unique insight into the life and work of this immense writer. It's an invaluable opportunity to immerse yourself in Corneille's world and better understand his cultural heritage.
---
Coming soon, our article on the Musée Pierre Corneille in Rouen.
---
17:30-18:30: stroll through the narrow streets of Rouen
Between visits to historic sites and taste tours, you haven't yet had time to take a leisurely stroll through the city? Don't worry, we've set aside a slot for this more contemplative, but in our opinion unavoidable, activity. Wandering through the narrow streets of Rouen is like being transported back in time to the city's historic heritage. We were charmed by the picturesque half-timbered houses lining the narrow streets. The city was punctuated by splashes of color, giving it a warm atmosphere.
Traditional and authentic, we loved exploring the Normandy capital. Don't miss Rue de l'Eau-de-Robec, Rue Damiette, Rue Ganterie and Rue du Gros-Horloge. During your stay, you'll no doubt have quickly passed through these different places, but you'll need to take the time to appreciate them better. It's a nice way to round off a day of sightseeing with a picturesque stroll, isn't it?
PLAN YOUR TRIP

TO

Normandy
---
---
---
Other ways to discover Rouen: natural spaces
Do you love green spaces but don't want to leave the city? That's not a problem, because even within Rouen, there are some superb walks to oxygenate and recharge your batteries!
Explore the Botanical Gardens of Rouen
It's an oasis of tranquillity and wild beauty, ideal for walking and relaxing. We wandered the aisles, admiring the carefully tended varieties of plants and flowers. During our stroll, the autumn colors gave the garden a lot of charm. It's also a privileged place for botany enthusiasts, offering the chance to discover a large collection of remarkable plants and trees in greenhouses or outdoors.
Climb to the top of Côte Sainte-Catherine
We highly recommend climbing to the top of Côte Sainte-Catherine. Once you've reached the top, you can enjoy a magnificent panoramic view of the city and observe the majestic silhouette of Rouen Cathedral. It's a landscape worthy of a painting. In fact, Claude Monet immortalized this view in his painting "Vue générale de Rouen" (General view of Rouen), which you can see at the Musée des Beaux-Arts. As the sun set, we were struck by the beauty of the Normandy capital. As the light fades, you can watch darkness slowly settle in, creating a magical landscape.
Along the banks of the Seine
If you're looking for a pleasant urban stroll, we recommend walking along the banks of the Seine. They are quite lively, with cafés, restaurants and boutiques creating a friendly atmosphere. We enjoyed the spectacle of passing barges and the lively atmosphere of the quayside. For admirers of beautiful boats, you'll be aware that Rouen regularly organizes the Armada. Since the 1st edition in 1989, the town has hosted a gathering of tall ships, each more impressive than the last!
All our tips in this article were put into words with the help of Elisa.