Renting a car in Rouen is the best way to explore Normandy with the beautiful cliffs of the Alabaster Coast and the abbeys along the Seine.
Here is our complete guide to car rental in Rouen, covering:
Access to the car rental company,
what type of car to choose,
best rental agencies and reviews,
advice on cost reduction,
regulations in France,
driving tips
…
We've tried to list everything you might need to know to have a worry-free car rental experience.
Rent a car in Rouen – what you need to know
Rouen and its train station – quick introduction
Here are some essentials to know:
The city of Rouen is one of the most important in Normandy
It is historic and fascinating to explore and is well situated for exploring the Alabaster Coast and the abbeys along the Seine.
It is accessible by train from Paris, via the Gare St Lazare – The journey takes 1h20 on average.
There are several car rental agencies inside the station (see our tip 1 and 2)
Then you have to go to the parking lots to access the cars (see tip 3)
There are other car rental companies in an area south of the Seine River in the city of Rouen.
See the car rental offers in Rouen on our preferred platform.
Renting a car in France – the essentials
If you don't want to read the whole article with the step by step for renting a car in Rouen, and in France, here is a summary of our best tips:
Book early to get the best prices and choice of cars (there are few automatic cars in France).
Do not rent a car that is too large. There are some narrower roads, especially in the old villages and town centers. Moreover, it is easier to park (travelers from the United States, Canada or Australia are often surprised by the places where the French can park!)
If you're going on a road trip, choose a car with a trunk big enough to hold all your hidden luggage.
Be sure to check how to pay tolls (highways and many bridges require payment).
Always check the car when you arrive and take pictures of everything you see (don't forget the roof and under the bumper) – see tip 23.
The platform we personally use
We always compare prices immediately at Discovercars.com.
It is one of the top rated comparison sites by customers.
We find great deals and we find the platform super easy to use because we can filter according to our criteria.
Plus, they offer a convenient coverage option at a great price that will cover you in case of damage to the exterior of the car. And we had the opportunity to test it: a chip on the windshield. There were no difficulties, the repayment went very well.
Take advantage of their current car rental offers in Rouen
Is it difficult to drive in France? Is it safe?
Overall, it is quite easy to drive in France. The roads are in good condition. There is a vast network.
However, be aware of the following difficulties:
Driving in Paris can be a nightmare, especially the traffic circle around the Arc de Triomphe. We do not recommend driving in Paris. Rent your car before or after your exploration of the capital.
Driving in Rouen is less stressful than Paris, but there is still a lot of traffic. Take your time. We recommend that you go to one of the underground garages in the city center and visit the city on foot.
Some streets in town centers and old villages can be narrow
Most foreigners will find that parking is the most difficult part of driving in France
There are many traffic circles. Priority is given to those who are on the traffic circle (except for the special case of the Arc de Triomphe)
In some cities and towns, most crossings are based on giving priority to the car coming from your right. Be careful, even if your road seems more important, you must give way if there are no signs and markings.
#1 to 3 – Access to car rentals in Rouen
Advice 1 – Rent a car at Rouen Station
At Rouen station, you will find many of the classic brands:
Hertz
Europcar
Avis
Sixt (by reception service)
Thrifty
Caution. Some platforms suggest you renters in other locations. Keep an eye on it.
On Discovercars.com, for each displayed offer, the pick-up location is indicated. Don't miss this crucial information.
Tip 2 – Office Access
The trains arrive in an underground section, under the station.
So you have to go up, and once in the station, there are signs indicating the car rental companies (those who have an office in the station), followed by the symbol of the car with the key on it.
In the heart of the station you will find the rental offices.
The building being a bit historical, there are no bright colored signs.
The first time we passed by without realizing!!!
You have to go through the beautiful wooden doors.
Be careful not to follow the footprints on the ground that indicate the car rentals, it will be only after signing the papers.
Tip 3 – Access to cars
Once you have completed all the paperwork, you must go to the parking lots to pick up the rental car.
Follow the footprints indicating "Car Rental".
It takes a few minutes to walk.
First you cross the station, then you pass over a footbridge to the multi-storey parking lot.
Then you have to take the elevator or the small spiral staircase to go down to level -2 and get your car.
This is also where you bring the car.
FOR ADVICE ON


QUALITY

Support us
Do you appreciate all the free content you find on our blog?
Our independence, the only guarantee of qualitytips, is partly based on your generosity!
We offer you to give us a coffee (or several) in the hope of sharing it with you one day in person!
#4 to 3 – How to rent a car in Rouen – required elements
Tip 4 – Permits to rent a car in France
It is always best to have your international driver's license when traveling outside the country. That way, you'll never have to wonder.
However, you should know that in order to be allowed to drive in France (on vacation/short trip), you can use a standard international driving license. This means a permit that has :
a license number,
a photograph,
a validity date,
and is written in Latin letters
EU citizens can use their EU license.
A valid U.S. license works.
A valid Canadian permit is required.
A valid British license works.
Tip 5 – Additional age requirements / years of driving
The official driving age in France is 18.
However, most car rental agencies in France :
require you to be 21 years old
require that you have held a driver's license in your home country for one year or more
may add a fee if you are under 25 years of age
may add fees if you are over a certain age
It is best to make sure you read all the fine print.
On the Discovercars.com platform, you can enter your age, to see any limitations of available rental cars and any additional fees.
Tip #6 – A credit card that can handle the holdback
Keep in mind that unless you have chosen to purchase comprehensive insurance directly from the rental company, you will be asked for your credit card to hold a deposit. This amount is blocked on your account via your credit card (until you return the car without damage).
Because it is in addition to the payment, you may reach your daily/weekly or monthly credit card coverage limit.
So be prepared! Your options are as follows:
Use another credit card for hold fees,
Contact your bank before you travel to change your limits,
Purchase comprehensive insurance with a deductible of 0.
On the Discovercars.com platform:
Once you have opened an option, you can click on Rental Terms, and you will see the amount of the security deposit.
And if that's a problem for you, you can pre-select the amount you're willing to lock in as a security deposit in the filters:
USE OUR GUIDE TO PLAN A


DREAM TRIP

TO

Normandy
All the information you need for your trip:
8 maps that make planning easier
160+ pre-selected locations
Practical advice
300+ photos to help you choose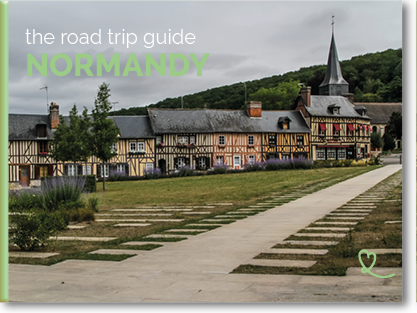 #7 to 10 – What type of rental car to choose?
Tip 7 – Recommendations for car size / power
We know that it depends on how many people are traveling and how much luggage you are taking.
But here are a few things to keep in mind when traveling to France:
There are narrow roads in the countryside, villages and old town centers. In addition, parking spaces can seem tight for travelers.
Therefore, we recommend choosing a car that is not too big, in order to reduce the stress of certain situations
If you are heading to the mountains (Pyrenees or Alps), the roads can be steep.
Therefore, it is more comfortable to have enough power. We recommend not to choose the smallest motor
Otherwise, no particular recommendations
Tip 8 – Transmission type – manual or automatic
Most cars for rent in France have a manual transmission.
Rental agencies have automatic cars, but they are often more expensive. And there are fewer of them, so book early.
At Discovercars.com you can use the "Automatic Transmission" filter on the left, if this is a must have for you.
Tip #9 – Fuel Choice – Diesel, Gas or Electric
The gasoline is called in France "Essence sans plomb".
Diesel is called "Diesel" or "Gazole" in France.
The service station is called in France "Station-service".
LGP is GPL
See the concentration of charging stations for electric cars where you go in France on this website.
Tip 10 – Is it useful to have a 4WD in France?
No. There is really no point in renting a 4×4 in France.
And be aware that even if you have a 4×4, the insurance coverage associated with the rental probably doesn't cover the use of the car off paved roads.
This is common in many countries. Read the fine print.
#11 to 17 – Best car rental agencies in France – reviews
Tip 11 – Cost of renting a car in France
To give you an idea, based on Discovercars.com data, the prices are approximately :
There are large variations throughout the year – Average prices vary from 40 to 80 Euros per day
The cheapest prices are usually for when you travel in March
It's very easy to compare prices online on platforms – but if you're comparing between sites, don't forget to check for any hidden fees.
Tip 12 – How to choose a car rental agency
First of all, of course, the company must have the type of car you need.
Then, see the cancellation fees.
Mileage allowance – depending on what you plan to do, take a look at the unlimited mileage or daily mileage allowance
The location of the pickup – some require a shuttle to get to the rental location.
Tip 13 – Top rated car rental agencies in France
First of all, don't forget that on Tripadvisor or Google for example, anyone can write a review even if they haven't used the company.
On the Discovercars.com platform, each rental agency has a 10 point rating.
It is an average of the ratings given by real customers – On the search page, you can select only the best rated :
Tip 14 – How to save money – cheap car rental in France
If cost reduction is your primary concern, you should:
Book early
Return the car to where you picked it up
Reserve a smaller car
Pay attention to pick-up and drop-off times – Car rentals are generally charged in 24-hour periods.
Choose a rental with no cancellation or with limited cancellation
If you are renting for 6 days, check the price for 7 days – sometimes companies have a discount for week-long rentals.
Book with limited mileage
And always understand that you can't have everything: the lowest price, the best service in the world and a brand new car… Price, quality and service are always in balance.
Tip #15 – Check the hours of operation if you are taking a company that is not located at an airport
If you pick up your car at the airport, the companies are normally open as long as flights are arriving.
However, if you rent a car in a city, especially a small town, their opening hours will be shorter (especially on weekends).
This may mean that you will have to rent for an extra day if you cannot drop off the car.
Tip 16 – Car rental scams in France
There is no specific scam in France, to our knowledge.
As in most countries, if the price is very very low, then there must be conditions and tricks behind it.
And some companies do try to charge more for damages. My advice is to always take the time to check the car and take dated photos upon pickup and return.
Tip 17 – Be careful if you take a ferry or cross a border with the car
From France, you can :
Take a ferry to Corsica or England
Take a ferry to the small islands
Move to Belgium, Germany, Switzerland, Italy, Luxembourg, Monaco and Spain.
Be sure to read the rules to see if it's allowed and check if there are any fees.
On the Discovercars.com platform, once you have clicked on an offer, click on "Rental Conditions" and then again on "Rental Conditions" or "Additional Conditions" to find the "Geographical Restrictions".
If they are not documented, you can add the question for customer support to answer.
PLAN YOUR TRIP

TO

Normandy
---
---
---
#18 to 19 – Understanding Insurance
Tip 18 – Choose the types of insurance you need + requirements in France
There are many levels of insurance. And their wording is often not very clear.
Here is a high-level overview of the different types of insurance – which are not really insurance, but waivers to limit your liability:
Collision Damage Waiver (CDW) – limits the customer's liability during the rental period and sets the maximum amount the customer will pay in case of damage.
Theft Protection (TP) – limits your liability to the deductible/excess amount of the vehicle in the event of theft of the car (proof required is a police report and the car keys). TP is often included in the price of the car rental.
Third Party Liability ( TPL) – covers personal and property damage to other people's cars and property and even medical expenses. They have different limits.
and many others…
The compulsory insurance in France is the civil liability insurance. It is included in the price of the rental car.
Tip #19 – 4 Ways to Buy Insurance
Option without insurance – apart from the compulsory insurance, you are not obliged to take any extras. Just be aware that in the event of an incident, you may be responsible for your entire deposit.
Option 1 – Use your credit card insurance/ or your own auto insurance
Many credit cards offer some sort of rental car coverage. They all differ.
Similarly, your personal auto insurance may also cover you when you rent a car.
You must read all the fine print to understand what is and is not covered.
Option 2 – Subscribe when you reserve your rental car
When you book your rental car, you normally have the opportunity to select the insurance you want. The offers are most of the time better than at the counter (I saw 3 times less, once).
On the direct sites, you get the dealer's insurance, but on the platforms, you get special insurance created by the platform.
For example, on Discovercars.com, they have their own "Full Coverage Waiver" insurance option.
Personally, this is what we use. You have to pay in advance, but they refund quickly if you send all the papers. This seems to us to be the best option in terms of cost / ease. We had to use it once because we had a chip on the windshield and the refund was no problem.
Option 3 – At the car rental
This is the most expensive option, but if you've never done it before, you can purchase it at checkout.
Option 4 – Travel Insurance
Purchase travel insurance that includes comprehensive car rental insurance from one of the traditional insurance companies.
#20 to 22 – Extras
Tip 20 – Need a GPS?
To navigate, a GPS can make your experience smoother. This way, you can concentrate on driving.
Option 1 – Bring your own GPS
This is our preferred option. We know how it works, and we can enter all the destinations in advance, which saves a lot of time.
Option 2 – Use your phone
If you have a phone, keep in mind that roaming charges abroad can be very high.
However, you can download a map in advance, when you are connected to the wifi, so you can navigate without spending money.
Don't forget your phone charger and holder to keep it comfortable!
Option 3 – Take the GPS as well
We do not recommend it. I think it's a last resort if you don't have your own or a good phone. We always find them very expensive.
Tip #21 – Additional Driver Fee
Decide in advance whether or not you will need more than one driver.
If this is the case, keep this in mind when comparing rental offers between companies.
Some companies offer deals with an extra driver for free.
On the Discovercars.com platform, if available, it can be selected on the filters :
Tip 22 – Child Seat Rules in France
Children under 10 years of age must be seated in a special seat in the back of the car.
#23 to 30 – How to collect and return the car to avoid problems
Tip #23 – Check your vehicle at pickup
For a hassle-free exchange with the car rental company, we recommend that you perform a thorough check of the car before leaving the parking lot.
Sometimes this is done with an agent. Sometimes they simply give you a form with the condition of the car before the rental. Sometimes they don't tell you anything…
Make sure all dents and scratches are noted, if not, make sure they add them.
In addition, to have peace of mind, you can take pictures before leaving (as in all countries).
Things to look for:
Check the entire exterior of the car for dents and scratches.
Don't forget to check the roof !!!! It is often forgotten, but it may be checked when you return.
Don't forget the underside of the bumper
And don't forget the back of the mirrors
Check the interior for damage
Check the condition of the tires
Check the condition of the wing (mud wing above the wheels)
Check that the spare tire is in place and in good condition
Verify that the fuel level and mileage match the record
Tip #24 – Make sure the mandatory equipment is in the car
In France, the following equipment must be available in the car:
Warning triangle
Reflective vest or jacket for at least 1 person
Spare tire (recommended – but not required)
Tip 25 – Toll Management
There are many tolls in France.
If you want to use the highways and some bridges, you will have to pay.
However, you can avoid the highways and take smaller roads through the countryside. It will take more time but cost less.
For the time being, all toll plazas still have credit card toll booths. You may have to pay for each one. Or you may have to take a ticket at the entrance and pay at the exit.
Look at the icons at the top:
if only one T – you can only pay with the ticket
if only a T and cards, you can't pay with cash
Tip #26 – What to do if you get a fine or ticket (speeding / parking)
You are responsible for any traffic tickets or fines you receive during the rental period.
If you are notified immediately, you may pay at the police station or online as indicated.
But be aware that it can take up to 3 months before a fine is reported to the car owner (the rental company). In this case, they will send you a proof and charge you for it and may add an administrative fee for handling the fine.
Tip #27 – What to do if there is a problem with the car
Don't lose your rental agreement.
On this page, you will find the steps to take if you have a problem with your car.
Most use a breakdown assistance service and the number will be indicated on the contract.
You can then contact the rental company to see how to replace the car.
Tip #28 – Don't forget to manage your tank
More and more agencies now have a system where you have to return the car with the same level of fuel (not full to full but same to same).
It's very annoying, but it's more manageable for them.
Therefore, you need to understand how much the car consumes and how many kilometers/miles you have left, if you don't want to waste money.
Tip #29 – Returning the Car
For peace of mind, try to drop off the car during business hours so that all checks can be completed and validated.
If this is not possible, take pictures of the car before you drop it off.
Don't be stressed. If you've hired a reputable company and follow the rules, everything should go smoothly.
Tip #30 – What to do if you damage the car
If your rental car is damaged, the first thing to do is to contact the car rental agency.
If your rental only has basic insurance, you will be responsible for covering damages up to your deductible.
If you have full coverage with the rental agency, check with them and the damage should be covered
If you purchased with Discovercars.com, contact them and provide all information (within 28 days of the car drop off). They will reimburse you for the fees and costs associated with the damage, if warranted.
If you use your own insurance, contact them and provide all information. They will reimburse you for the fees and costs associated with the damage, if they are justified.
FOR ADVICE ON


QUALITY

Support us
Do you appreciate all the free content you find on our blog?
Our independence, the only guarantee of qualitytips, is partly based on your generosity!
We offer you to give us a coffee (or several) in the hope of sharing it with you one day in person!
#31 to 35 – Getting ready to drive in France
Here is an overview of the main things you need to know.
You can read more in our article on driving in France.
Tip #31 – Understand traffic rules and conditions
Driving is on the right side of the road
Seat belts are mandatory for all
The blood alcohol level is 0.05%.
The speed limits are well indicated in the red circle.
Most villages have a 30km/h limit and many (too many) speed bumps.
In France, if a crossroads has no sign or indication, you give way to the person coming from your right.
Traffic on the traffic circle has priority
The use of the horn is only allowed in case of immediate danger (although the French tend to forget this rule)
You are not allowed to turn right at a red light, as is possible in some countries
Tip 32 – The French "Priorité à droite
Pay attention to an unfamiliar rule.
In French cities, when you come to a crossroads, if there are no stop signs or priority signs at all, then the vehicle coming from the street to the right of you has the right of way. And you have the right of way on the streets to the left.
Tip #33 – Know the potential hazards
You won't see many animals on the roads in France.
The main dangers when driving in France are cyclists and some locals who make crazy overtaking.
Tip #34 – Plan your route
It can be fun to go on an adventure.
But if you want to see several locations during your road trip, it is better to plan ahead to balance your days and book accommodations.
Find all our regional sites:
USE OUR GUIDE TO PLAN A


DREAM TRIP

TO

Normandy
All the information you need for your trip:
8 maps that make planning easier
160+ pre-selected locations
Practical advice
300+ photos to help you choose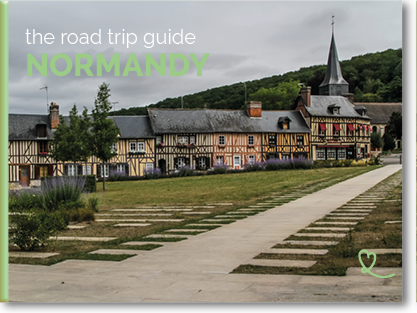 Tip 35 – What to do in case of an accident
If people are injured or if there is a conflict, the emergency number in France is 112:
The best order of action is
contact emergency services
contact the police
contact your rental company