A vast sandy beach, iconic Les Planches de Deauville, Belle Époque architecture… discover how to immerse yourself in the elegance and glamour of Normandy's must-see seaside resort.
We share with you the best things to do in Deauville to occupy a weekend or a longer vacation.
Here are all our favorite activities to help you plan an unforgettable trip that takes you back in time.
This guide is completely independent, based on our experiences. We visited the area anonymously, making our own choices, and paying all our bills in full.
1. Strolling along Les Planches de Deauville
Why we love
Let's start with the must-see that epitomizes the elegance and glamour of the seaside resort: the famous Deauville boards. Whether you're a film buff or simply looking for a picturesque stroll, Deauville is a jewel to discover.
Inaugurated in 1923, the Deauville circuit is intimately linked to the history of cinema. They have played host to prestigious festivals and welcomed the world's biggest stars. As you stroll along this iconic promenade, you'll be following in the footsteps of seventh-art legends such as Brigitte Bardot, Clint Eastwood and Catherine Deneuve.
Visually, it's a great success too. The 600-meter-long boardwalk is lined with colorful Art Deco cabins and overlooks a sandy beach. You can go hunting for the names of your favorite actors.
The atmosphere is both relaxed and glamorous, reminiscent of the heyday of the belle époque.
Practical advice
Allow one hour
Easy to access
Very pleasant at sunset
Beach bar and restaurant
2. Admire Belle Époque villas and architecture
Why we love
Afterwards, we recommend a stroll through the historic heart of Deauville to immerse yourself in the architecture and charm of the Belle Époque. In the 19th century, the town became a popular resort for the aristocracy and European high society.
Beyond its sumptuous beaches and lively atmosphere, Deauville has a hidden treasure in its historic heart: a dazzling array of Belle Époque villas. As you stroll through the picturesque streets of this charming seaside resort, you'll be transported to the elegance and refinement of a bygone era.
A variety of architectural styles blend harmoniously, creating a unique urban landscape. Half-timbered villas with wrought-iron balconies, colorful facades with Norman influences, neo-classical elements with Doric or Corinthian columns… Each villa has its own character!
Practical advice
Allow 1 to 2 hours
Explore the streets and take the time to observe the architecture.
Deauville is very easy to walk around, with flat, wide streets and well-kept grounds.
Cafés and restaurants throughout the center
WHERE TO STAY

IN

Deauville
---
Option 1: downtown
For easy access to the beach, beautiful downtown and restaurants… We recommend..:
---
Option 2: in the countryside
Less than 15 minutes from Deauville, you can enjoy a peaceful stay surrounded by greenery. We recommend..:
---
Option 2: Trouville
On the other side of the harbor is the twin town of Trouville, also with beautiful villas but a more relaxed atmosphere. We recommend..:
3. Deauville beach
Why we love
We have to admit that we prefer beaches with a little more rock and relief. But for lovers of wide open spaces, Deauville beach is ideal.
With its endless horizon, soothing waves and refreshing sea breeze, Deauville beach offers an idyllic setting for relaxing, rejuvenating and connecting with nature. Whether you like to swim, take a romantic sunset stroll or simply bask in the sun, this iconic beach is sure to please. It stretches for several kilometers.
And the lifeguards' perched huts are very photogenic!
Practical advice
30min to several hours
The best time is sunset!
Deckchairs and parasols for hire in summer
4. Spend an evening at the Casino
Why we love
Beyond the games of chance that can entertain us for an evening, the casino building is emblematic.
Since its opening in 1912 (on the site of a first establishment opened in 1864), this majestic building has become a veritable symbol of the city's elegance and glamour. Neoclassical influences blend with Art Nouveau details, creating a unique aesthetic. Elegant facades, wrought-iron balconies, majestic columns and decorative domes transport you to another time. Inside, you'll discover luxurious rooms adorned with sparkling chandeliers, plush carpets and sumptuous decorations that add an extra touch of glamour. It transports you back to the splendor of the seaside resort's 18th-century festivities.
Practical advice
An evening
But be careful not to get lost – gambling is addictive!
Easy access right in the center of Deauville
You must be of legal age and properly dressed to enter.
USE OUR GUIDE TO PLAN A


DREAM TRIP

TO

Normandy
All the information you need for your trip:
8 maps that make planning easier
160+ pre-selected locations
Practical advice
300+ photos to help you choose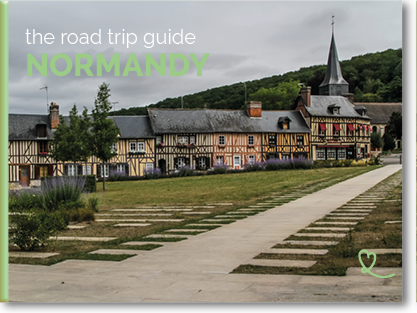 5. Snacking at the Dupont Avec Un Thé restaurant
Why we love
One of our favorite places in Deauville has long been a tearoom.
Located right in the center of town, it's a great place to settle down in the middle of your exploration. The place is an institution: founded in 1912 in Dives-sur-Mer, the brand has expanded with stores and tearooms in several towns in Normandy.
We always choose their deliciously flavored madeleines and a good hot drink.
An Oh so French experience.
Practical advice
20, place de Morny
Closed on Thursday
Tearoom open from 9 a.m. to 6:30 p.m.
FOR ADVICE ON


QUALITY

Support us
Do you appreciate all the free content you find on our blog?
Our independence, the only guarantee of qualitytips, is partly based on your generosity!
We offer you to give us a coffee (or several) in the hope of sharing it with you one day in person!
6. Continue exploring towards the port and Trouville
Why we love
When in Deauville, don't miss its twin sister: Trouville-sur-Mer. Drive along the picturesque harbor and you'll discover even more charming villas. This walk offers a unique perspective on the two seaside resorts, highlighting their distinct differences and charms.
Your tour begins around the port of Deauville, with its fishing boats and elegant sailing ships. You can stroll along the quays, watch the fishermen and enjoy the restaurants and cafés lining the harbor.
As you continue your walk, you'll cross the bridge linking Deauville to Trouville. This transition marks the shift from a sophisticated atmosphere to a more authentic, bohemian ambience. Trouville-sur-Mer, with its rustic charm and lively streets, offers an interesting contrast to the glamour of Deauville. You may notice a more Norman influence, with sloping slate roofs and half-timbering.
Practical advice
Allow 2 to 3 hours to really explore, stroll around and soak up the atmosphere.
Don't miss the picturesque Deauville-Trouville station en route.
Flat, fairly easy ride
7. Admire the Villa Strassburger
Why we love
We recommend a short detour to the back of town, to discover one of the city's most beautiful villas: the Villa Strassburger. This architectural gem embodies the charm and elegance of the Belle Époque. Built in the early 20th century, this sumptuous residence is an exceptional witness to Deauville's history.
The Villa Strassburger is an example of the architectural eclecticism that characterized the period in which it was built: Norman influences (half-timbered facades, slate roofs, small-paned windows…) and Art Nouveau details. However, neo-Renaissance elements can also be seen) and Art Nouveau details…
Baron Henri de Rothschild had it built in 1907. His son and his wife Noémie have truly left their mark on the villa's history, organizing grandiose parties. And after the Second World War (during which an underground passage was built), the villa was bought by the American Strassburger family, hence its current name. The villa was bequeathed by his heirs to the City of Deauville in 1980.
Practical advice
You can admire it from the street and from the entrance to the estate.
But it's also regularly open to visitors: find out more here.
VISIT

THE

Pays d'Auge
Visit Beuvron-en-Auge (coming soon)
8. Discover the village of Beaumont-en-Auge
Why we love
Beaumont-en-Auge is a typical Pays d'Auge village, with half-timbered houses, a peaceful atmosphere and a well-preserved heritage. Nestled in a green setting, this typical village offers an enchanting escape back in time (the village's history dates back to the 11th century).
Half-timbered houses are one of Beaumont-en-Auge's most emblematic features. These wooden buildings, with their exposed beams and colorful facades, give the village a unique character. Admire the unique side of Saint-Laurent church, and the statue of Pierre Simon Laplace (born here in 1749), famous for his outstanding scientific work on celestial mechanics and the calculation of probabilities.
What's more, the village sits on a hilltop with beautiful views over the countryside, Deauville and the Touques valley in the distance.
Practical advice
15min drive from Deauville
Allow an hour to explore the village
Restaurant and café
9. Discover the exhibitions in Les Franciscaines
Why we love
For a change from the beach and glamorous architecture, we recommend a stop at the Musée Les Franciscaines.
Located in a convent that was home to a congregation of Franciscan nuns for over 140 years, this venue brings together heritage and contemporary art.
Take advantage of the cloister where you can relax and read.
You can then explore and take part in your visit: digital terminals interactive exhibits allow visitors to explore the rich collections of films, photographs, posters… that define Deauville's identity.
You can also discover 4 exhibition hubs:
the André-Hambourg Museum, dedicated to the painter and his work
the Galerie des Maîtres, with its fine works of art and a bird's-eye view of the cloister
the photo gallery
the temporary exhibition gallery, which programs three themes each year.
Practical advice
145b avenue de la République
Allow one to two hours
Please note that the site may be regularly closed for events.
10. Horseback riding on the beach
Why we love
Deauville is known for its love of horses and its rich equestrian history.
Imagine yourself galloping along the ocean shore, the wind in your hair and the sound of the waves in the background. In Deauville, this dream experience becomes a reality thanks to the possibility of horseback riding on the beach. This unique activity allows horse and seascape lovers to experience magical moments and create unforgettable memories.
Practical advice
11. Following in the footsteps of Eugène Boudin and other artists
Why we love
Eugène Boudin is a key artist in Normandy. He was the precursor of Impressionism, and painted many of the places in Normandy. If you'd like to find out more about him, visit the Eugène Boudin Museum in Honfleur.
It was in Deauville that he built a house in 1884, where he spent the last 14 years of his life. His wish was to die facing the sea. His house is nicknamed "La Breloque", and you can drive right past it. And you'll also find panels of his paintings around town and in the region.
You have to admit that our photo above looks great, with the horse positioned just like on the picture!
But many other artists have been inspired by Deauville, and you'll see signs all over town with examples of paintings or photographs and explanations.
Practical advice
8 rue Olliffe for Eugène Boudin's house
Search for the landscapes that inspired his paintings
12. Kayak tour
Why we love
We haven't had the chance to do this activity yet, but it's high on our list!
What an original way to explore the cliffs around Deauville or inland on the Touques!
Practical advice
13. Visit the old town of Honfleur
Why we love
Honfleur, located on the banks of the Seine estuary, is one of our favorite destinations in Normandy for its picturesque charm, lively port and rich historical heritage. This small seaside town has inspired many famous artists, notably the Impressionists, thanks to its picturesque landscapes and authentic atmosphere.
You'll discover a charming fishing port, half-timbered houses, museums, a unique wooden church, art galleries…
Find out more in our article: what to do in Honfleur.
Practical advice
Allow half a day to a full day
30min drive between Deauville and Honfleur (a little longer in summer or on sunny weekends with traffic jams)
Bring good flat shoes, it's an old city with cobblestones
Honfleur has an excellent gastronomic offer: see our list of the best restaurants
14. See a competition at the racecourse
Why it's a must
To be honest, we're not fans. But Deauville has an important equestrian history, so it's impossible not to mention it.
The town has two racecourses:
Hippodrome de Deauville – La Touques
Cairefontaine racecourse
The Deauville – La Touques racecourse was inaugurated in 1864 and takes its name from the river that runs through it. Since then, it has gained an international reputation as a leading racing venue.
The Deauville – La Touques racecourse offers two distinct tracks: a grass track and a sand track. The grass track is used for flat racing, while the sand track is used for obstacle racing. And at the heart of it all are three polo fields.
Practical advice
15. Excursions from Deauville to discover Normandy
The area around Deauville is very, very rich. The list could go on and on… Here are our 5 favorites (but the choice is very difficult)
Villers sur Mer and the Vaches Noires
Distance from Deauville: 20min drive plus walk
Head to Viller-su-mer, to walk at the foot of the Badlands cliffs and discover the giant rocks called "black cows" because, from the sea, they look like a herd of cows.
To be done at low tide.
Cabourg and its dune
Distance from Deauville: 30min drive
If you'd like to see even more Belle Époque villas, head for Cabourg. We love the more relaxed atmosphere that revolves even more around the beach.
And we love the dune between Cabourg and Houlgate: a privileged natural environment.
The landing beaches
Distance from OuistrehamSword Beach): 50min drive
Distance from Deauville to Omaha Beach Beach: 1h30 drive
It's also easy to set off from Deauville for the day to discover the D-Day landing beaches.
Utah Beach Beach is the only one that's a little too far away, but otherwise you can see the others, as well as batteries and museums.
The nearest war battery to Deauville is the Mont Canisy battery, but it's not one of the most interesting, so we recommend the Mervilel battery a little further away (40min).
See all our favorite sites to find out more about the Normandy landings.
Village of Beuvron-en-Auge
Distance from Deauville to Beuvron: 35min drive
Icon of the Pays d'Auge, the village is considered as the most typical old village of Normandy with its beautiful collection of well maintained half-timbered houses. They did a beautiful job of restoration.
It is beautifully landscaped with charming stores and flowers.
The village was first identified in the 9th century. Most of the houses date from the 14th to 18th centuries. One of Normandy's most beautiful villages(see our list)
Visit a castle
Distance from Deauville to Château de Saint-Germain de Livet: 45min drive
Distance from Deauville to Crèvecoeur castle: 35min drive
And for a further change of style, we recommend a visit to a museum in Normandy. Not far away, we have 2 to recommend.
Saint-Germain-de-Livet: This château really impressed us. It's not the oldest, it's not the biggest (it's actually quite small) but it's certainly the most unique. The half-timbered part of the manor still has old frescoes on the wall, because they had been protected by plaster. And the stone and brick part has some green elements in the exterior decor, which is very rare.
Château de Crèvecoeur: We love half-timbered houses, and this château is a fine example, with its dovecote, barn and manor house. And this one combines them with medieval fortifications. It achieves a good balance and we enjoyed the visit.
PLAN YOUR TRIP

TO

Normandy
---
---
---
Best things to do in Deauville: other ideas
A short stroll along the banks of the Touques river
Between Deauville and Trouville, enjoy a stroll along the banks of the Touques, with lovely views over the town of Trouville.
The American Film Festival
The Deauville American Film Festival is a prestigious cinematic event held every year in the charming town of Deauville, Normandy. Created in 1975, the festival is dedicated to the promotion and celebration of American cinema. It normally takes place in September.
For ten days, the streets of Deauville come alive with the presence of Hollywood stars, renowned directors, film professionals and cinephiles from all over the world. The festival highlights the latest American productions, from independent films to blockbusters.
The atmosphere at the festival is both glamorous and convivial. The red carpets unfurl, the flashbulbs crackle and the stars climb the famous steps of the Casino de Deauville, the prestigious setting for the screenings.
What to do in Deauville with children
If you're coming to Deauville as a family, our favorite child-friendly activities are..:
Deauville beach with lots of sand for making castles!
Deauville's mini-golf course, right next to the beach
The playground at Parc de la Potinière
Le Paléoscape: museum on the Jurassic period (with large dinosaur skeletons and fossils), at Villers-sur-Mer
Taking the tourist trian
take a ride on the merry-go-round
What to do in Deauville when it rains?
If it rains during your stay, you can consider
Visit Les Franciscaines de Deauville
Going to the Casino
Shopping
Go on excursions, as it's quite possible that it won't rain a little further away.
Visiting Deauville in winter
Deauville is also well worth a visit on a winter weekend.
Deauville in winter offers a different perspective on this iconic destination. Between peaceful beaches, Christmas lights and winter elegance, the town retains its characteristic charm while offering an intimate and magical atmosphere.
See our article on Deauville in winter.
Practical advice
Where is Deauville?
Deauville is located in Normandy, by the sea.
Paris to Deauville = 2h30
Caen to Deauville = 1h
Here is a map to help you find your way:
OUR ADVICE FOR

RENTING A CAR

IN

Normandy
Compare prices on our preferred platform: DiscoverCars – one of the best rated sites.
Choose a car that is comfortable enough (distances can be long) but compact (some parking lots and villages are narrow).
Think of thecomplete insurance (some roads are tortuous and narrow).
There is a lot of demand, book it early.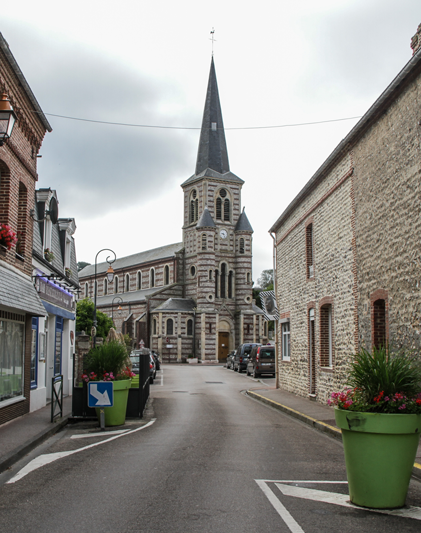 How to get to Deauville
The easiest way to get to Deauville is by car.
But if you're coming from Caen or Paris, you can also get there by train. The station is very charming and pleasant.
See available timetables and book your train and coach tickets now.
Deauville also has a small airport, 10 minutes from the town. But thefts are not frequent.
Parking in Deauville
Pay parking is available in the city center, but if you're looking for a street further away, you can find free spaces.
Alternatively, at sea level, large pay parking lots are also available.
Getting around Deauville
Deauville is a fairly flat town with large, well-maintained streets. It's easy to explore all the neighborhoods on foot.
Alternatively, you can take a 45-minute guided tour (in French and English) of the city on the tourist train.
Where to eat in Deauville
We've yet to test many of them, but for the time being, we recommend Deauville:
Restaurant L'Essentiel with its glass roof and Michelin-starred restaurant
Restaurant Le Mamamia with its Mediterranean revisited dishes
Maximin Hellio's Michelin-starred restaurant
Restaurant Le Lassay, at the Deauville Golf Club
Restaurant L'Étage for its magnificent sea view and stylish decor
Restaurant La Cabane Perchée for tapas by the sea in Trouville
La Belle Epoque restaurant in the unforgettable setting of the Hotel Normandy