You wish to visit Le Havre in Normandy? Welcome to our hometown!
In this guide we present you the best things to do in Le Havre: architecture, art, nature, beach… it is an atypical and fascinating city!
What to plan your weekend in Le Havre (or why not, a longer vacation): map, photos, tips…
Why visit Le Havre? Best things to do
Best things to do in Le Havre – our Top 7
If you don't want to read the whole article, our top 7 things to do in Le Havre is:
Walk in the downtown area to discover the Perret architecture
Enter the church of Saint Joseph, and its exceptional tower
Admire the Volcano and its contrast with the Perret architecture
Walk along the beach to the end of the world, as the locals call it
Climb to the orientation table for a view of the estuary
Discover modern art in the city
Visit the hanging gardens at the Fort of Saint-Adresse
We explain them in more detail with pictures in this article.
And, after the rain, head to the Nelson Mendela Esplanade for a water mirror effect!
Is Le Havre worth a visit?
Yes. Because it is our hometown, city of a thousand skies (our own expression) that Claire lives in.
Isn't that a good enough reason? LOL
OK. Seriously, it's because:
It is a Unesco World Heritage Site.
This is not a typical French town, it has a post-war architecture – The town was largely destroyed during World War II, so you won't see many old churches and buildings. It was rebuilt by Auguste Perret in a modern architectural style, which was a great step forward at the time.
It is a place that has inspired many generations of artists, from the impressionists to today's modern and street artists – the sky at sunset (especially in spring and fall) can be spectacular! And even during the day, we can have clouds and breathtaking lights.
It is one of the most interesting cities in Normandy and, in my opinion, one of the places not to be missed.
The city of a thousand skies – Le Havre in pictures
Our family has had a store in Le Havre since 1870. Yes, with an 8. Our grandfather lived to be 104, so he was able to share many stories about the war and reconstruction. We should have just written them.
Let us show you what I mean by the nickname we gave our hometown, one of the reasons we love it so much!
Culture Center
In recent years, Le Havre has developed as a cultural center with modern works of art installed throughout the city that contrast with the Perret architecture.
Practical advice – Le Havre France
Where is Le Havre?
It is in the Normandy region
In the north of France
At the mouth of the Seine which flows from Paris
At the beginning of the magnificent Alabaster Coast
Here is a map to help you find your way:
Need to rent a car in Normandy?
Our advice:
Compare prices on our preferred platform: DiscoverCars – one of the best rated sites.
Choose a compact car (some city streets are narrow).
Think of thefull insurance (some winding passages in the old villages and tight parking in the big cities).
There is a lot of demand, book it early.
How to get to Le Havre
You can easily get there by train from Paris – at the moment it is not a high speed train but it only takes 2 hours (when it is on time) –
Or you can drive – from Paris it's a 2 hour drive on the freeway (A13), from Lille 3 hours, from Nantes 4 hours.
If you are coming from the UK, your ferry can arrive in Le Havre, which makes an ideal stop before continuing south – book your ferry.
It's a stopover on your cruise – see our article on how to spend your day in Le Havre and the excursions
…
Visit Le Havre – the main things to know
Many stores and restaurants are closed on Mondays and public holidays.
On Sunday, all restaurants will be open, but most stores will be closed.
Thanks to a few landmarks, it is quite easy to find your way around the city
Weather in Le Havre : it is a coastal city in the north of France. So it can be windy and rainy. But it can also be very nice. Bring layers of clothing to deal with any type of weather.
Tourist office – you can get more information at the tourist center near the marina – GPS – 49°29'34.1 "N 0°05'47.3 "E
How to get around Le Havre
Le Havre is a very pedestrian city, all the city center is flat with large pedestrian sidewalks.
Parking in the downtown area is not free. However, it is free along the beach.
For downtown, I recommend parking somewhere and exploring on foot. If it doesn't rain, it's a great city to walk around.
Afterwards, you can park at the beach and walk around.
It's also getting better and better to get around by bike.
And the seafront promenade is ideal for a long rollerblade ride
To explore more of the surrounding area, you should rent a car.
In summer – if you want explanations, there is a bus that makes a loop around the city to give you an overview: the Bee bus – or you can enjoy one of the Tuk-Tuk (electric vehicle) tours that leave near the marina (more information)
Where to stay in Le Havre
Unfortunately, we don't have many hotels with sea views – but they just started building one (right next door to me) so in a few years it will be great!
But we still have some great options:
What to do in Le Havre – our top 7
Let's start with our absolute Top 7 things to do in Le Havre that you should consider if you don't have much time.
#1 – Walk downtown to discover the Perret architecture
That's why Le Havre is famous.
Certainly, it is not what one imagines when one thinks of France. The buildings are square and pinkish gray without ornaments.
But at the time it was rebuilt, it was an incredible improvement.
Our grandfather was one of the first people to get the keys to our family store and the new apartments where his house was located. And he was always ready to tell us how much better it was after the reconstruction. Living conditions have improved considerably.
The architecture is not the most beautiful in the world, but it was very innovative and efficient at the time of reconstruction, which is why it has been classified by Unesco as a world heritage site.
#2 – What to do in Le Havre ? Entering the church of Saint Joseph
Of all Perret's buildings, St. Joseph's is my favorite. Even a friend of mine, who never goes into churches, was so fascinated that he went in. It was built between 1951 and 1957, and the interior was completed in 1964. Auguste Perret never saw it built.
The base is square and the tower is 107m high and hollow in the middle. It stands on the corners.
If there is no mass, you can enter to admire the structure and the architectural wonder of the tower.
On a sunny day, the colors of the stained glass windows are reflected everywhere inside, it's really nice.
It is one of the most fascinating churches in Normandy(see our list).
GPS – 49°29'28.4 "N 0°06'02.5 "E
#3 – What to see in Le Havre ? Admire the Volcano
If you're tired of gray buildings, check out the pure white of Le Volcan theater. It was built by the famous Brazilian architect Oscar Niemeyer. You can walk around and admire it from different angles.
The soft curves contrast with the sharp angles of the Perret architecture.
It was inaugurated in 1982.
Between us, it is also sometimes called the yogurt pot. LOL. But this nickname seems to disappear.
Recently, the library was installed in the lower part. Come in and see it, it's also a beautiful interior design!
GPS – 49°29'27.7 "N 0°06'27.2 "E – one of the most beautiful urban landscapes in Normandy
#4 – Walk along the beach
When people hear about Le Havre, they think of a port. But we also have a beautiful beach that ends with cliffs.
See a later section of this article for more details on the beach.
#5 – Climb to the orientation table
If you are not too tired, you can climb to the end of the beach in Sainte-Adresse (the neighboring town).
There is a belvedere with a fantastic view on Le Havre. I love to stop here. But I never have my camera with me, so we don't have a good picture of the view. I'm sorry.
GPS – 49°30'26.2 "N 0°04'26.3 "E
#6 – Discovering art
Because Le Havre is the "city of a thousand skies", it has inspired many artists: Monet, Pissaro, Eugène Boudin, Gustave Courbet, Raoul Dufy…
The impressionists came here to paint the sea, the clouds, the lights and the colors.
If you walk along the waterfront, you will see reproductions of famous paintings where they were painted.
If you like art, you can visit the MuMa(André Malraux Art Museum). It is located at one end of the waterfront, not far from the container arches.
In permanent exhibition, paintings from the 15th to the 20th century with pieces by Delacroix, Boudin, Monet, Renoir, Degas, Manet and many others…. It has one of the most prestigious collections of impressionist art after that of the Paris region.
Closed on Monday.
And there is also modern art. In the last few years, Le Havre has invested in modern outdoor art. Some impressive pieces compliment the architecture.
My favorites are Vincent Ganivet's modern arches created by assembling colored containers: La Catène. It is located at the end of the rue de Paris with the port in the background.
We like the perspectives, the colors and the connection with the port.
And if you are looking for something different and you like street art, Jace has created pieces all around Le Havre, especially with a little orange character named Gouzou. You can find a map of all his tags HERE. This way you can create your own route around it!
Container Arches GPS – 49°29'05.8 "N 0°06'26.2 "E
Le MuMa GPS – 49°29'04.3 "N 0°06'11.4 "E
#7 – The hanging gardens at the Fort of Saint-Adresse
I love this place !!!!! We often come here with my parents to walk.
It combines history, nature and breathtaking views of Le Havre.
Located inside the Sainte-Adresse fort, the botanical garden includes a free outdoor walk and the opportunity to see the greenhouse for a small fee.
The fort was a military base until 1979.
It can be reached on foot from the city center (on a slope) or by public transport (line 5 stop "Jardins suspendus").
If you come by car, there are several parking lots nearby.
GPS – 49°30'11.1 "N 0°05'40.4 "E
Plan a dream trip to Normandy
8 maps that make planning easier
160+ pre-selected locations
Practical advice
300+ photos to help you choose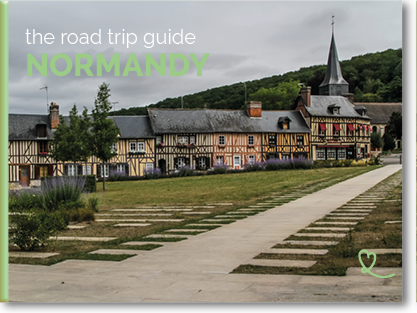 And of course… the beach of Le Havre
Le Havre is not like the fine sandy beaches of Corsica. Got it.
But it has a lot of charm.
First of all, there is a footpath all along the beach, which makes it an excellent walk to the point we call "the end of the world", under the cliffs.
On Sundays, many locals come here for a long walk and to get some fresh air.
And from the limit Le Havre / Sainte-Adresse, you can see the Perret architecture behind the beach, in particular the tower of Saint-Joseph.
The beach of Le Havre has 5 different sections:
At the water's edge, you have sand at low tide
Then there are the big gray pebbles where beach huts are installed during the summer.
Then you have La Promenade with a few restaurants (part of the year).
And below you have a small river with vegetation and another walking/biking area.
And then there is the street and the wide sidewalk
There's room for everyone!
Note: Since 2022, the beach huts have been returned to white. But there is talk of other artists getting involved in the years to come.
If you walk south towards the Marina, you can also walk on the dikes.
And when the tide is high and the wind is strong, you can admire the waves crashing against these dikes!
Or you can continue north. At a certain point, you will switch to the town of Sainte-Adresse where you will find the Estacade (a pontoon).
And if you keep walking, you will be under the cliffs and reach "the end of the world".
Learn more in our article on the beach of Le Havre.
Around the beach of Le Havre
Le Havre is an ideal stop if you like :
windsurfing,
kitesurf
paddle-boarding (some days and only for the most advanced)
paragliding, starting from the top of the cliffs
rollerblading along the beach
And the beach is perfect for watching the sunset
For quality tips, support us!
Do you enjoy all the free content you find on our blog, without intrusive ads?
Our independence, the only guarantee of qualitytips, is partly based on your generosity!
We offer you to give us a coffee (or several) in the hope of sharing it with you one day in person!
What to see in Le Havre – other places of interest downtown
Below are some other places you can see on foot. This is of course a selection as many places can be listed, but I have listed my favorites for you.
#9 – Le Havre Cathedral
As I said earlier, there is not much left of the old Havre, because it was destroyed during the Second World War. But on the rue de Paris, you can still see the cathedral. It is small compared to the other 6 Normandy cathedrals.
The bell tower dates from the 16th century. The main façade is baroque.
Inside, the church's organs were donated by Cardinal de Richelieu in the 17th century.

GPS – 49°29'13.4 "N 0°06'27.4 "E
#10 – Square Saint Roch
The Perret architecture is very square and gray.
It will fascinate those who love history and architecture, but others may find it boring after a few buildings.
If you need a nature break (away from the beach), you can visit the garden of Saint-Roch. It is located on Avenue Foch. This is the only park that was planned by Perret in the downtown area.
In the spring, this English garden is truly magnificent with water, flowers and beautiful old trees.
My grandparents used to love to come here, sit and enjoy it for a while.
GPS – 49°29'38.3 "N 0°06'07.6 "E
#11 – What to visit in Le Havre – the Perret show apartment
The tourist office bought one of the apartments in the Perret buildings to recreate the interior as it would have been in the 1950s.
I have to admit that I haven't visited it yet because I lived in a Perret apartment for 7 years after my grandmother passed away, when we moved in with my grandfather.
This is the model apartment. Read more
#12 – Natural History Museum
The building was a government building. It was built in 1760 in a neoclassical style.
It was heavily damaged during the Second World War and Auguste Perret wanted to destroy it, but it was classified and restored.
Today it is home to the Museum of Natural History

GPS – 49°29'15.9 "N 0°06'32.0 "E
#12 – Shipowner's House
In another area, near the fishing port, one of the few buildings that was not totally destroyed during the Second World War. It was built in 1790 and heavily restored after the Second World War. You can visit it with its neo-classical decor.
GPS – 49°29'12.5 "N 0°06'45.7 "E
Le Havre by night
If you spend a night in Le Havre, you should go out in the evening to enjoy the lights of the city.
I really should take better pictures, I'm sorry.
The church of St. Joseph is particularly beautiful with all the breakthroughs of light in the reinforced concrete.
#13 – Tour of the port of Le Havre by boat
Le Havre is the 1st port in the world for wine and alcohol, and the 1st or 2nd French port for the different categories of maritime movements.
It hosts some of the largest container ships in the world.
From the marina, you can enjoy a boat ride inside the harbor.
Here is the website
#14 – Funicular and Stairs of Le Havre
It's not my favorite thing in my city but I know there are some who might be interested so here goes (I still need to go get pictures).
The Le Havre agglomeration has a low city and a high city (because Le Havre was built on the marshes of the estuary at the foot of the cliffs). The transition between the two is quite abrupt.
Thus, in many places of Le Havre, you can find very long stairs. There are more than 200 of them around the city. The tourist center offers tours that will take you to over 80 of them, I think.
We also have a funicular. It is located not far from the Coty shopping center.
GPS Low station – 49°29'52.7 "N 0°06'41.5 "E
The first version was inaugurated in 1890 and ran on coal. In 1911, he started using electricity. It was damaged during World War II, but was restarted in 1950.
The version you see today dates from 1972 with tires and cabins.
It climbs an elevation of 78m over 343m.
We also have an old exterior escalator dating back to 1928, but it is no longer in use today. But it was quite unique at the time (there were only 2 in the world at the time). Today, the old stations are still standing and the staircase around it (Montmorency) has been painted in several colors. GPS coordinates – 49°30'10.7 "N 0°08'39.5 "E (away from downtown).
Plan your trip to Normandy!
→ Inspiration destinations
Deciding where to go in Normandy – the best destinations
Our weekend ideas: best-of, romantic, unusual, seaside, luxury, family
→ Best-of
Best things to do in Normandy
Best cities in Normandy
Most beautiful beaches of Normandy
Most beautiful villages of Normandy
Best castles of Normandy
Best abbeys of Normandy
Read our complete guide to visit the Mont-Saint-Michel
Discover the D-Day sites
→ Practice
Where to stay in Normandy – best places and hotels
See our tips for renting a car at CDG airport, Orly airport, Beauvais airport, Caen, Rouen, Bayeux…
---
Travel to Le Havre – other suggestions near the city
Here are some other suggestions of places I like in the city of Le Havre.
If you have a weekend in Le Havre or more, I think they are worth visiting.
But I recommend having a car to be able to go there.
#15 – Le Havre – Montgeon Forest
In Le Havre, we are lucky to have a forest very close to the city center: the forest of Montgeon.
It has been inhabited since the Neolithic period. In the Middle Ages, it was used by the nobility for hunting.
Today, it is an ideal place to walk in the shade of the trees in warm weather.
GPS – 49°30'43.5 "N 0°08'35.5 "E
#16 – Rouelles Park
Want more nature? We have another great park only 15min from downtown: the Parc de Rouelles.
It extends over 150 ha with ponds and many hiking trails.
In the center, there is a circular dovecote from 1631. And a few years ago, they introduced Scottish beef. Beautiful animals!
GPS parking – 49°31'15.2 "N 0°10'08.7 "E
#17 – History – For Belgians or Americans
This building in Sainte-Adresse, just next to Le Havre, is the place where the Belgian government was established during the First World War (1914-1918).
And it was occupied from 1944 to 1946 by the American army.
It can be reached on foot from the beach (uphill).
GPS – 49°30'16.8 "N 0°04'50.6 "E
#18 – Blockhaus
And if you like war history, we are not as famous as the beaches of Normandy further south but you can still see the Blockhaus on the cliffs of Sainte-Adresse. There is a footpath to enjoy the view of the sea and it passes near several of them.
GPS Start – 49°30'40.6 "N 0°04'10.3 "E
#19 – Abbeys
If you are looking for more ancient history, in the greater Le Havre area, the neighboring small towns are home to old abbeys:
Graville Abbey – it has buildings dating from the 12th and 18th centuries – GPS – 49°30'11.9 "N 0°09'51.7 "E
Montivilliers Abbey – its current buildings date from the 11th century with a Roman style – 49°32'43.2 "N 0°11'30.5 "E
A weekend in Le Havre – itinerary
Suggested itinerary for a weekend in Le Havre
Morning Day 1 – Stroll through downtown – admire the architecture, enter St. Joseph's Church
Afternoon Day 1 – Walk along the beach to the cliffs, you can also climb to the lookout and further on to see the wartime blockhouses.
Evening Day 1 – Watch the sunset at the beach and go out to see Le Havre by night
Morning Day 2 – Stroll through the MuMa and admire the container arches
Afternoon Day 2 – Climb to the Hanging Gardens – walk and view of Le Havre / alternative: boat trip
Visit Le Havre with children
If you are traveling with children, they will enjoy some of the sites listed above such as:
The beach
The forest
The container arches
The fort
But you can also find playgrounds:
At the beginning of the beach (all ages)
In the middle of the beach (average age)
In the forest (all ages)
At the Square Saint-Roch (I have to go check)
Near the town hall (for the youngest)
Near the container arches (for the older ones, giant spider web)
…
What to do in Le Havre when it rains
If it's only raining and there's no strong wind, then I think you should still tour the city As my mom always says, "you're not made of sugar".
But if the wind blows, it can be very uncomfortable. In this case, you can:
Visit the MuMa (art museum)
Visit the Natural History Museum
See how the French shop at Les Halles (if you are French but not fluent)
Walk along the rue de Paris because the sidewalks are covered
Go to the shopping malls: Coty (not far from the town hall) or Les Docks (not far from the river cruise pier)
Don't make the same mistake we did!
On one of our last trips to Europe, a hacker stole our credit card details while we were using a hotel WiFi.
So our trip began with a "card blocked" call… Not funny at all!
Learn from our mistake, make a small VPN investment to surf without worry.
Eating in Le Havre
Shopping
My favorite place to shop is 'Les Halles Centrales' right behind the volcano.
It is a covered market where you can find a lot of cheeses, meats, French specialties… Many stores are closed on Mondays.
Bakery – Pastry shop
This one is very easy for me because our family has been very loyal to the same bakery for decades.
It is called Maison Portier. It is close to the Halles Centrales (but outside the covered market).
My brothers and I have lived and traveled in other cities, but we always say that this is where you can find the best bread. We all love a different kind of bread in this bakery (very different) but we can't find one as good anywhere else.
And we really enjoy our Sunday cupcake (and sometimes not just on Sundays…).
Closed on Sunday afternoon and Monday.
Restaurants
This is a difficult question. I don't get out much.
But I do have some suggestions:
For high-end restaurants, the most famous is Tartarin on Avenue Foch, 2 stars in the 2019 Michelin Guide
For Bistronomy, we recommend Le Margote (50 Quai Michel Féré) – Reservation is essential.
For delicious and thoughtful French cuisine, we recommend Le Bouche à Oreille (19 rue Paul Doumer) or La Tablée (69 rue Guillemard) – Reservations are essential.
For French style crepes, there are many excellent creperies in the St François area such as Maryvonne (13 rue Jean de la Fontaine), Au Petit Breton (11 rue Dauphine)…
For mussels, we like La Voile Bleue (58 rue des sauveteurs). Their mussels are delicious with Normandy sauce with Camembert or Roquefort cheese!
For simple meals, in summer, we have restaurants along the beach huts. You will find a wide variety of cuisine: French, Asian….
Bars
It's even more difficult for me. I don't see any alcohol…
One of the busiest spots in the evening is around the volcano, in the halls and in the pedestrian street nearby. You will find a large choice of bars.
If you like wine, there is the W Wine bar where you can taste a lot of wine with a card system (101 rue Victor Hugo). I did two evenings there and the others really enjoyed it.
Plus, their cheese and charcuterie plates are fantabulous!!!
Hotels in Le Havre
Right now, there is not a single hotel that stands out in terms of reviews on Booking.com.
And unfortunately, we don't have many hotels with sea views – but they just started building one (right next door to me) so in a few years it will be great!
But we have some great options:
Hotel Spa Vent d'Ouest – it is located next to the famous St. Josef's church with balconies, charming decor and less than 5min walk from the waterfront
see pictures and availability
The new hotel by the sea: Hilton Garden Inn by the marina with sea views
Hotel Spa Pasino inside one of our most impressive buildings. They did an excellent job of reimagining the volumes. The rooms have high ceilings and the hotel has a swimming pool and a casino
see pictures and availability
Hotel Oscar next to Oscar Niemeyer's Volcano Theater in a very central location with a retro style
see pictures and availability
The Nomad Hotel – a simple but convenient hotel near the train station
see pictures and availability
1872 Stadium Hotel – for sports fans. You are not in the city center, but if you are looking for something different, this is a small hotel in the stadium see photos and availability
And superb rentals, see the best rated accommodations in Le Havre
Excursions from Le Havre, Seine-Maritime
If you have more than one weekend and can spend a full week or vacation in Normandy, here are some additional suggestions.
Étretat
We love Étretat… the charming old village, the impressive cliffs and the stories of Arsène Lupin…
40min drive from Le Havre
Rouen
Rouen was less destroyed by the second world war, so the center is still full of old houses and narrow streets. It deserves a whole day.
1h by car from Le Havre (or 1h by train)
Landing Beaches
You can of course take a day trip to visit the Normandy landing beaches a little further south: Omaha, Juno, Utah…
2h drive from Le Havre – More information
Honfleur
Honfleur is one of the most famous villages in France. If you are looking for a place that resembles France in people's imagination, this is it.
45min drive from Le Havre
Villages of Seine-Maritime
But the Seine-Maritime (region of Le Havre and Rouen) is full of other charming little villages such as: La Bouille, Caudebec-en-Caux, Veules les Roses, Yport….
Normandy Bridge
And if architecture and construction are really your thing, don't miss the Normandy Bridge. You can drive on it, or stop at its foot and walk on it (avoid windy days).
30min by car
And much more….
Fécamp, Caen, Pont-Audemer, Brotonne Forest, Deauville….