You want to go to Normandy and are wondering where to go: Honfleur or Deauville or Cabourg?
I understand, all 3 cities are fascinating.
Discover the results of our Honfleur vs Deauville vs Cabourg comparison (with photos) covering :
The charm of the streets and the ease of exploration,
The best attractions and museums,
The most beautiful beaches,
The best hotel and restaurant offers,
…
BEFORE OUR TIPS + PHOTOS
HERE ARE OUR FAVORITES IN Normandy
Our guide to planning your road trip: eBook
This opinion is completely independent, based on our experiences. We visited the area anonymously, making our own choices, and paying all our bills in full.
Honfleur vs Deauville vs Cabourg: summary
Honfleur or Deauville or Cabourg: short answer
Our response varies according to your criteria:
If you're looking for glamour and shopping, we recommend Deauville.
If you're looking for a relaxed version of Belle Epoque charm with a beautiful beach, we recommend Cabourg.
If you want the center with the most charm and the feeling of traveling back in time, we recommend Honfleur.
Summary of our comparison
Most charming town center = Honfleur (but it depends on your tastes: Honfleur is more medieval, while Deauville and Cabourg are Belle Époque).
Best museums and attractions = Honfleur
Most beautiful beach = Cabourg
Best gastronomic scene = Honfleur
Best nightlife = Deauville
Best shopping = Deauville
Best Excusions = tie
For romantic, family or spa weekends…
For a romantic weekend, all 3 have something magical about them, but Cabourg is our choice.
For a weekend away with young children, choose Cabourg if you want a beach, or Honfleur if you want a wide choice of activities for the kids.
For a Spa / Thalasso weekend, it's a tie between Deauville and Cabourg.
For a weekend of shopping, choose Deauville.
For longer vacations, we prefer Cabourg. The town is more convenient for exploring, and the beach is very pleasant for the end of the day after all your visits to Normandy.
Where are they located? Can I visit all three? – Map
The 3 cities are very close to each other, so even if you stay in one, you can visit all 3.
However, if you're only staying for a weekend, we advise you to concentrate on just one at a time:
From Deauville to Honfleur = 30 min drive
From Deauville to Cabourg = 30 min drive
Cabourg to Honfleur = 40min
OUR ADVICE FOR

RENTING A CAR

IN

Normandy
Compare prices on our preferred platform: DiscoverCars – one of the best rated sites.
Choose a car that is comfortable enough (distances can be long) but compact (some parking lots and villages are narrow).
Think of thecomplete insurance (some roads are tortuous and narrow).
There is a lot of demand, book it early.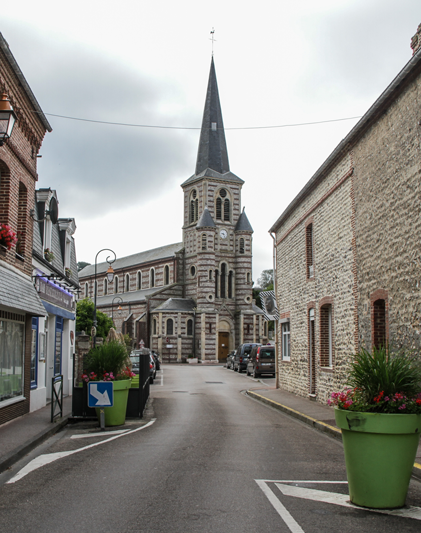 Where to sleep?
We'll tell you more about the hotels in each city below, but here are a few of our favorites and tips:
Honfleur
We love :
And read our article on the best hotels in Honfleur.
Deauville
We love it:
And read our article on the best hotels in Deauville.
Cabourg
We love
Downtown charm – Honfleur or Deauville or Cabourg?
The charm of Honfleur
Honfleur is one of our favorite towns in Normandy. Its timeless beauty makes it a must-see destination for lovers of history, art and photography.
Take a stroll through the cobbled streets of the old town, and you'll be enchanted by its medieval atmosphere. Colorful half-timbered houses with picturesque facades add a touch of elegance and character. The narrow streets are brimming with artisan boutiques, art galleries and lively cafés, creating a warm and friendly atmosphere.
Honfleur's architecture is a harmonious blend of styles, from medieval to Gothic to traditional Norman. Historic buildings such as the all-wooden Sainte-Catherine church, and the fishermen's houses along the Vieux Bassin, offer a striking visual spectacle.
In addition to its charming architecture, Honfleur has an idyllic location on the banks of the Seine estuary. The streets offer breathtaking views of the harbor, with its fishing boats and moored yachts, harmoniously reflecting their image in the calm water. In our opinion, the town's maritime atmosphere adds an extra dimension to its charm.
Honfleur's architecture and landscapes combine to create a unique and captivating atmosphere that enchants visitors all year round.
The charm of Deauville
The town of Deauville is renowned for its undeniable charm, reflected in its streets and elegant architecture. As you stroll through the streets of Deauville, you'll immediately be captivated by the sophisticated atmosphere here. Deauville's architecture is marked by magnificent belle époque villas, testimony to the town's glorious past as a popular holiday destination in the early 20th century. These sumptuous homes with their ornate facades, wrought-iron balconies and manicured gardens add a touch of grandeur to the ensemble.
The avenues are lined with luxury boutiques, prestigious hotels and refined restaurants, creating a chic and glamorous atmosphere. Deauville is also known for its emblematic boardwalk, a magnificent wooden promenade that runs along the beach.
Whether you're strolling through the bustling shopping streets, admiring the belle époque villas or strolling along the boardwalk, Deauville's architectural beauty creates a unique atmosphere that's sure to charm you and transport you to another era.
The charm of Cabourg

The town of Cabourg is a jewel of charm and architecture on the Normandy coast. As you stroll through the streets of Cabourg, we're always seduced by its picturesque atmosphere and authentic ambience. Narrow streets lined with colorful half-timbered houses with flowering shutters and wrought-iron balconies create a picture-postcard atmosphere.
Cabourg's architecture reflects the region's typical seaside style, with opulent villas and mansions evoking the elegance of the Belle Époque. The emblematic Grand Hôtel de Cabourg, with its majestic façade and retro charm, is a true symbol of the town. The harmony between historic buildings and modern amenities gives Cabourg a unique and enchanting character.
In our opinion, Cabourg's architecture blends harmoniously with its natural setting, with its magnificent sandy beach bordered by an elegant promenade. The seaside villas offer breathtaking sea views, while the well-tended gardens add a touch of greenery.
Cabourg's architecture and landscape combine to create a romantic and peaceful atmosphere. It's a must-see destination for lovers of architecture and romance.
Our review
It all depends on the style of architecture you prefer.
We like the older, medieval style, so our preference is for the town of Honfleur.
And when it comes to Belle Époque architecture, we prefer the style of the villas in Cabourg to those in Deauville.
USE OUR GUIDE TO PLAN A


DREAM TRIP

TO

Normandy
All the information you need for your trip:
8 maps that make planning easier
160+ pre-selected locations
Practical advice
300+ photos to help you choose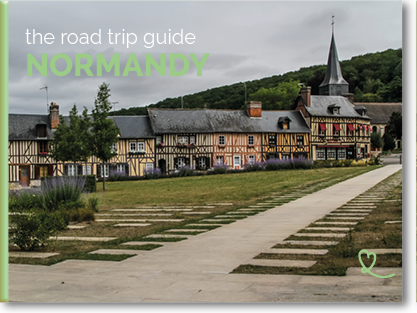 Most beautiful beach
Honfleur beach
Nestling at the mouth of the Seine, Honfleur's Plage du Butin offers an intriguing setting. With its golden sands, Butin beach invites you to relax and contemplate. Bordered by lush green cliffs, it offers magnificent views of the Seine estuary and the famous Pont de Normandie, which adds a spectacular architectural touch to the skyline.
However, it's not in the center of Honfleur. It's a 15-minute drive from the center.
Beach of Deauville
Deauville beach is one of the most emblematic assets of this renowned seaside resort. Stretching along the Normandy coast, this beach is impressively long, making it ideal for revitalizing walks (especially at sunset), family beach games and relaxing in the sun.
Deauville beach is also famous for its mythical, brightly-colored beach umbrellas, its famous Art-Deco beach huts, and the beachside promenade known as Les Planches de Deauville.
Cabourg Beach
Cabourg beach is one of the jewels of the Côte Fleurie. With its miles of fine golden sand, this beach offers the ideal setting for seaside pleasures. Bordered by the famous Promenade Marcel Proust, Cabourg's beach is a romantic and charming place to bask in the sun or swim in the refreshing waters of the English Channel.
The beach is directly accessible from downtown Cabourg. It also boasts an elegant, family-friendly atmosphere. We love its fine sand, friendly atmosphere and enchanting setting. What's more, it ends with a magnificent dune at the mouth of the Dives.
Our review
We love Cabourg beach, its atmosphere and its sand dune facing Houlgate.
For us, there's no contest, it's the most beautiful.
But if you're looking for more space, Deauville beach may be a better choice for you.
FOR ADVICE ON


QUALITY

Support us
Do you appreciate all the free content you find on our blog?
Our independence, the only guarantee of qualitytips, is partly based on your generosity!
We offer you to give us a coffee (or several) in the hope of sharing it with you one day in person!
Waterfront / river
Stroll along the Seine in Honfleur
Honfleur's stroll along the Seine offers a peaceful and picturesque experience along the town's quays. Following the banks of the Seine, you can admire the colorful fishing boats and elegant sailing ships gently bobbing on the waters.
Continuing along the promenade, we reach one of our favorite spots in Honfleur: the jardin des personnalités, a special place where sculptures representing celebrities from the art world are on display. The garden offers a unique blend of natural beauty and artistic creativity, inviting visitors to stroll, relax and be inspired by Honfleur's artistic ambience.
Les Planches de Deauville
Les planches de Deauville is one of the most emblematic attractions of this prestigious seaside resort. This picturesque promenade runs along the sandy beach and offers breathtaking sea views. The planks, those famous wooden boards that line the path, add a touch of elegance and charm to the whole. Stroll along this promenade and admire the magnificent art-deco beach huts.
The promenade is also known for its history and its close ties with the world of cinema. Every year, it hosts the Deauville American Film Festival, attracting celebrities and film buffs from all over the world. As you stroll along the boards, you may even spot commemorative plaques bearing the names of famous actors and actresses who have left their mark on the history of cinema.
Promenade de Cabourg
Cabourg's seafront promenade, known as Marcel Proust, is a real delight for walkers in search of charm and tranquillity. It runs along Cabourg's sandy beach and offers a breathtaking view of the sparkling sea. Bordered by elegant villas and manicured gardens, it exudes a refined, soothing atmosphere.
Stroll along this promenade and enjoy the fresh sea air and gentle breeze, while admiring the city's typical Belle Époque architecture. The timelessly charming villas add a touch of sophistication and recall Cabourg's prestigious past.
Our review
The 3 walks have very different styles. It's hard to pick a favorite.
Cabourg is the most elegant, Honfleur the most relaxing, and Deauville the most mythical.
Best museums and attractions
Museums and attractions in Honfleur
Honfleur is rich in museums and activities. Among our favorites:
Strolling through the city center
Saint Catherine's Church in wood
Around the harbour with the Lieutenancy building
The Garden of Personalities
The Eugène Boudin Museum
The Ethonographic and Folk Art Museum of Normandy
Art galleries
Naturospace (ideal for children)
…
See our article on the best things to do in Honfleur.
Museums and attractions in Deauville
Deauville is less rich in activities and museums. We recommend:
Strolling through the city center
Going to the Casino
Walking on the boards and on the beach
See exhibitions in Les Franciscaines
Shopping
See a horse race
Visit the village of Beaumont-en-Auge
…
See our article on the best things to do in Deauville.
Museums and attractions in Cabourg
Deauville is less rich in activities and museums. We recommend:
Stroll through the town center and admire the villas
Stroll along the beach, on the Marcel Proust promenade
Explore the sand dune
Going to the Casino
A thalassotherapy cure
…
Our review
Honfleur is by far the town with the widest choice of activities.
Best hotels
Hotels in Honfleur
In Honfleur, you'll find a wide range of accommodation in the town center.
And also some very nice choices in the countryside.
We love the variety and charm of most of them. Honfleur has a wide range of hotels to suit every visitor's needs and preferences. Whether you're looking for a luxury hotel, a quaint B&B or more economical accommodation, you'll find plenty of options for your stay.
Among our favorites:
See our article on where to stay in Honfleur.
Hotels in Deauville
Deauville's hotel offer is vast and diverse, offering a range of options to suit the needs and preferences of every visitor.
You can sleep either right in the center of town for easy access to attractions, in the twin town of Trouville for a more relaxed style, or in the nearby countryside for more space and peace and quiet.
Among our favorites:
See our article on where to stay in Deauville.
Hotels in Cabourg
Cabourg's hotel offer is a little less developed.
You can choose to stay right in the center of town, in the twin town of Houlgate, or to the west, along the beach.
Among our favorites:
Our review
The 3 towns offer charming establishments to suit all styles.
Our preference is for hotels in Honfleur. We love their charm and quality!
Best restaurants
Restaurants in Honfleur
In our opinion, Honfleur's gastronomic scene is one of the most interesting in Normandy, and is constantly developing. . The town abounds in picturesque restaurants, traditional brasseries, seafood bars and gourmet eateries, creating a gourmet and convivial atmosphere.
Among other things, we recommend
Restaurant La Fleur de Sel and its warm cuisine
SaQuaNa, a restaurant-bakery-izakaya
Restaurant Le Bréard and its bold cuisine
Restaurant L'Âtre and its creative cuisine
Restaurant l'Huître Brulée, if you like oysters, don't miss it!
Restaurant le Tourbillon and its cosy decor
Restaurant L'endroit and its rustic, seasonal cuisine
….
See our article on the best restaurants in Honfleur.
Restaurants in Deauville
The city is packed with renowned restaurants, from Michelin-starred establishments to local bistros and traditional brasseries.
We've yet to test many of them, but for the time being, we recommend Deauville:
Restaurant L'Essentiel with its glass roof and Michelin-starred restaurant
Restaurant Le Mamamia with its Mediterranean revisited dishes
Restaurant Maximin Hellio, l'étoilé
Restaurant Le Lassay, at the Deauville Golf Club
Restaurant L'Étage for its magnificent sea view and stylish decor
Restaurant La Cabane Perchée for tapas by the sea in Trouville
La Belle Epoque restaurant in the unforgettable setting of the Hotel Normandy
Restaurants in Cabourg
We haven't tested much of Cabourg's gastronomic scene yet, but on our wish list we have, among others:
Restaurant Le Baligan
Restaurant Le Balbec in Cabourg's grand hotel
Restaurant L'Eden, on the Houlgate side,
Restaurant Les Terres Iodées, Houlgate side
Restaurant Le Bouche à Oreille
Restaurant Le Calypso
Restaurant Au Pied des Marais, west of Caboug
Our review
As we've written, we're fans of Honfleur's choice of restaurants. But for a short stay, you'll find plenty to enjoy in all 3 cities.
Better nightlife
Nightlife in Honfleur
Honfleur's nightlife is lively and intimate. The cobbled streets of the city center offer a warm and friendly atmosphere, with a selection of bars and restaurants where you can spend pleasant evenings.
The emphasis is on a relaxed atmosphere.
Deauville nightlife
Deauville's nightlife is generally more lively and sophisticated. The town is renowned for its casino, clubs and bars, which attract a trendy clientele. Evenings out in Deauville are often associated with a glamorous, festive atmosphere, with the chance to enjoy cocktails, attend shows or dance the night away in renowned clubs. The atmosphere is more dynamic and cosmopolitan.
Nightlife in Cabourg
Cabourg's nightlife offers a relaxed and friendly atmosphere. You'll find bars, pubs and restaurants offering pleasant evenings to enjoy the city's seaside atmosphere. Cabourg focuses on quieter, family-oriented evenings, with entertainment options tailored to a varied audience.
Our review
For those who like to party in the evening, we recommend Deauville.
For those who like gourmet or intimate evenings, we recommend Honfleur.
Best excursions
From all 3 towns, you can easily go on excursions in Normandy. All cities involve a detour and a bit of traffic to get in and out.
Among our favorite excursions:
Other cities on this list
Of course, they're not far away and we love them all.
Visit the D-Day landing beaches
Distance from OuistrehamSword Beach): 50min drive
Distance from Deauville to Omaha Beach Beach: 1h30 drive
It's also easy to leave these 3 towns for the day to discover the D-Day landing beaches.
Utah Beach Beach is the only one that's a little too far away, but otherwise you can see the others, as well as batteries and museums.
The nearest wartime battery to Deauville is the Mont Canisy battery, but it's not one of the most interesting, so we recommend the Mervilel battery a little further away (40min).
See all our favorite sites to find out more about the Normandy landings.
The villages of the Pays d'Auge
Distance from Deauville to Beuvron: 35min drive
The Pays d'Auge is full of charming villages and old town centers.
One of the best known is Beuvron-en-Auge, with its fine collection of well-maintained half-timbered houses. They did a beautiful job of restoration.
It is beautifully landscaped with charming stores and flowers.
The village was first identified in the 9th century. Most of the houses date from the 14th to 18th centuries. One of Normandy's most beautiful villages(see our list)
Normandy castles
Distance from Deauville to Château de Saint-Germain de Livet: 45min drive
Distance from Deauville to Crèvecoeur castle: 35min drive
And for a further change of style, we recommend a visit to a château in Normandy. Not far away, we have 2 to recommend.
Saint-Germain-de-Livet: This château really impressed us. It's not the oldest, it's not the biggest (it's actually quite small) but it's certainly the most unique. The half-timbered part of the manor still has old frescoes on the wall, because they had been protected by plaster. And the stone and brick part has some green elements in the exterior decor, which is very rare.
Château de Crèvecoeur: We love half-timbered houses, and this château is a fine example, with its dovecote, barn and manor house. And this one combines them with medieval fortifications. It achieves a good balance and we enjoyed the visit.
And many, many more options!
PLAN YOUR TRIP

TO

Normandy
---
---
---