In a quiet and residential street in the southwest of the city, the Au Loup Historic apartment hotel is pleasant and well located.
In a refined, modern and cosy style, the studios and apartments of 1 to 2 bedrooms allow you to take advantage of the calm of the area which remains close to the city center but also of the comfort of a real apartment.
Find in this article :
all our tips on this place,
our illustrated review of our stay in one of the apartments of the Au Loup Historic residence to prepare your trip!
This review is completely independent, we stayed anonymously and paid our bill in full.
Why sleep in an Au Loup Historic apartment in Bayeux?
The studios and apartments are accessible thanks to a code which is communicated to you as soon as the accommodation is ready to welcome you on the day of your arrival. It's really ideal because you don't need a key and above all, we didn't have to carry our luggage up the stairs, the accommodation is on the first floor. The residence does not have a restaurant, but you have everything you need to cook in the apartment or to stroll through the historic heart of the city to eat outside.
Is an Au Loup Historic apartment worth it?
If you are looking for calm and light while remaining close to all the amenities of the city, then opt for an apartment in this residence without hesitation. Just a few minutes from some of Bayeux's finest restaurants and the Botanical Gardens a little further afield, our night at Au Loup Historic was truly one of tranquility. We recommend this residence without hesitation! We have listed it in our best hotels to stay in Bayeux.
---
See the availability of the apartments of the residence Au Loup Historic.
---
Need to rent a car in Normandy?
Our advice:
Compare prices on our preferred platform: DiscoverCars – one of the best rated sites.
Choose a compact car (some city streets are narrow).
Think of thefull insurance (some winding passages in the old villages and tight parking in the big cities).
There is a lot of demand, book it early.
Interior decoration and furniture
The owners have chosen modern furnishings and soothing colors to furnish the interior of the residence's accommodations. The main room is a beautiful living space, very bright in the morning and in the afternoon.
We had a large living room with a TV corner and a dining area.
The rooms in our apartment
Our accommodation consisted of two rooms each accommodating two people. If you need an extra bed for your child, you don't have to bring it with you during your stay, you can ask for it when you book.
The style of the rooms is quite uncluttered, cozy without being overcrowded. We were very comfortable, and especially warm!
Don't make the same mistake we did!
On one of our last trips to Europe, a hacker stole our credit card details while we were using a hotel WiFi.
So our trip began with a "card blocked" call… Not funny at all!
Learn from our mistake, make a small VPN investment to surf without worry.
The kitchen, spacious and friendly
The kitchen and bathroom were in a row, well equipped. The whole very clean and very quiet, overlooking the courtyard. We appreciated the availability of the equipment on site:
a dishwasher,
a microwave,
a coffee machine with some capsules but also a piston coffee maker (depending on how you like your coffee),
a functional refrigerator.
The kitchen is a place that we also remember well because we really felt like we were at Grandma's: authentic but modern!
In the bathroom, you can also use the hair dryer, in addition to the towels and hygiene products already provided.
Plan a dream trip to Normandy
8 maps that make planning easier
160+ pre-selected locations
Practical advice
300+ photos to help you choose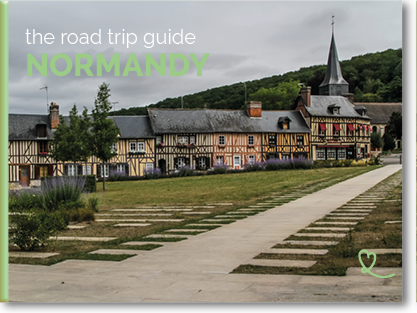 Price range
The studios and apartments of the Au Loup Historic residence are a good value for money. You won't regret it!
---
Read more
---
Practical information about Au Loup Historic aparthotel, Bayeux, France
Type of accommodation / price range
Studios and apartments 3 to 4 stars.
Where are the Au Loup Historic apartments located?
Driving time from Mont-Saint-Michel : 1h30min.
Driving time from Rouen: 1h45min.
Driving time from Evreux: 2 hours.
Driving time from Caen: 30min.
Driving time from Alençon: 1h45.
Driving time from Cherbourg: 1h10min.
How to get there
The Au Loup Historic apartments are located in Bayeux, Normandy. The access is easy by car but also by train. The Bayeux train station is only a 15-minute walk from the residence – see train prices and schedules.
Parking
There is no dedicated parking space but you will easily find a place to park on the street where the Au Loup Historic residence is located.
Are the Au Loup Historic apartments family friendly?
Without hesitation, it is a charming residence where you will be at ease with your family. The apartments have one or two bedrooms and can accommodate 4 to 5 people. Our apartment was well-equipped with a spacious dining room and kitchen to enjoy family time!
Plan your trip to Normandy!
→ Inspiration destinations
Deciding where to go in Normandy – the best destinations
Our weekend ideas: best-of, romantic, unusual, seaside, luxury, family
→ Best-of
Best things to do in Normandy
Best cities in Normandy
Most beautiful beaches of Normandy
Most beautiful villages of Normandy
Best castles of Normandy
Best abbeys of Normandy
Read our complete guide to visit the Mont-Saint-Michel
Discover the D-Day sites
→ Practice
Where to stay in Normandy – best places and hotels
See our tips for renting a car at CDG airport, Orly airport, Beauvais airport, Caen, Rouen, Bayeux…
---