Here are all our maps of Normandy in one article, to help you plan your trip and find your favorite places to visit.
The maps include the most beautiful destinations, beaches, cities, villages, castles…
Our opinions are completely independent, based on our experiences. We visited the area anonymously, making our own choices, and paying all our bills in full.
1. Where to go in Normandy – map of our favorite destinations
The whole region of Normandy has a lot to offer – villages, castles, abbeys, natural sites, historical sites, cities… You should plan a lot of time to explore all its beautiful landscapes.
That's why we've compiled a list of our favorite destinations in Normandy, to help you narrow down your plans.
See our full article with photos and tips to help you choose where to go.
2. Map of our best weekend ideas in Normandy
Normandy is rich in beautiful places to spend a weekend or more. In 1 to 3 hours drive from Paris, you can see various beaches, castles, historical places…
Here is our selection of the best weekends in Normandy: whether you are looking for relaxation, cultural discoveries, natural discoveries or gastronomic tastings, we have an idea for you.
See our complete article, you will discover, in pictures, these different places and plan your next escapade.
OUR ADVICE FOR

RENTING A CAR

IN

Normandy
Compare prices on our preferred platform: DiscoverCars – one of the best rated sites.
Choose a car that is comfortable enough (distances can be long) but compact (some parking lots and villages are narrow).
Think of thecomplete insurance (some roads are tortuous and narrow).
There is a lot of demand, book it early.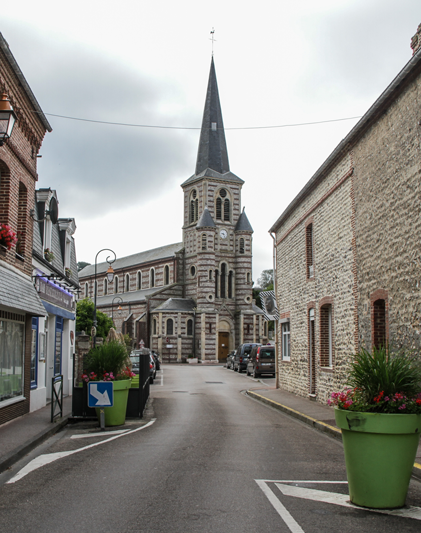 3. Map of the most beautiful villages of Normandy
With a long history, Normandy is full of charming towns that offer fascinating history, picturesque landscapes and splendid architecture.
Most of them have a lot to offer to travelers and the choice is very difficult. We are sure that some residents will be offended that we did not choose their city. But we still had to narrow the list…
See our full article with photos and why we love these cities.
4. Map of the most beautiful villages of Normandy
The area has a long history and not everything was destroyed during the Second World War. There are some architectural gems.
Not easy to choose, but here is our selection with typical villages with half-timbered houses, and others by the sea or with the shortest river in France!
See our full article with photos to help you choose.
FOR QUALITY ADVICE


QUALITY

Support us
Do you enjoy all the free content you find on our blog, without intrusive ads?
Our independence, the only guarantee of qualitytips, is partly based on your generosity!
We offer you to give us a coffee (or several) in the hope of sharing it with you one day in person!
5. Map of the most beautiful beaches in Normandy
Normandy has a long coastline that has inspired many artists: cliffs, beaches, dunes… There is a little bit of everything. Not easy to choose the most beautiful.
We prefer beaches that are very picturesque and photogenic, and this is the case of the beaches in this top 10.
See our complete article to discover them in pictures.
6. Map of the landing sites in Normandy
The D-Day landings and the Battle of Normandy have left their mark on Normandy forever. It can be difficult to plan a trip with the amount of beaches, museums, batteries and other places to visit.
Where to start? We have chosen the places that have taught us the most, inspired us the most and moved us the most.
See our full article to learn more and make your selection.
PLAN A


DREAM TRIP

TO

Normandy
8 maps that make planning easier
160+ pre-selected locations
Practical advice
300+ photos to help you choose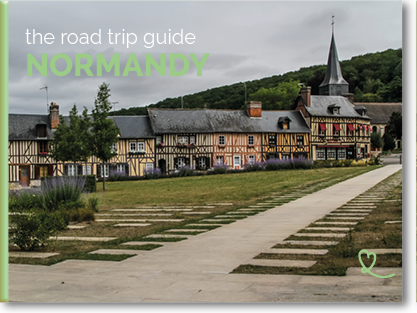 7. Map of the most beautiful castles in Normandy
Compared to the Loire Valley, Normandy is not particularly known for its castles. Yet the region is full of historic buildings with a long history. Some are medieval forts, others are beautiful Renaissance buildings with charming gardens.
All are different and worth a visit!
See our selection of the most beautiful castles with photos and practical tips.
8. Map: where to stay in Normandy
Where to stay in Normandy to make the most of the region?
There are options for everyone, with seaside resorts, charming coastal villages, farms in the countryside, big cities or picturesque places off the beaten track…
See our full article with our tips for hcoisi where to stay.
9. Map of the most beautiful abbeys in Normandy
Normandy is home to some of the most famous abbeys in France and Europe: the abbey of Mont-Saint-Michel, the abbey of Jumièges, the Abbaye-aux-Hommes…
They are all fascinating to admire and explore, even when they are in ruins.
See our complete article with photos, to help you choose the ones you want to visit.
10. Map of the cathedrals of Normandy
Normandy has a long and rich history.
Cathedrals and other religious buildings have played a central role in this history.
Most of the cathedrals date from the time when Normandy was almost a separate country. But many others date from different periods, which gives you a very rich experience.
See our complete article to discover them in pictures.
11. Map of Mont-Saint-Michel
Mont-Saint-Michel is the most iconic place in Normandy.
This fortified village and its abbey are built on a small rocky island in the middle of a bay with impressive tides. What could be more incredible!
See our article to discover all the places not to miss in the village.
And other tourism maps of Normandy to come
We will add more as we complete this site with all our articles and tips
PLAN YOUR TRIP

TO

Normandy
---
---
---