You've decided to spend a weekend in Le Havre, the city of our birth and of our hearts? We can only congratulate you, as this city, sometimes difficult at first sight, is so rich and deeply engaging.
To help you discover the soul of our city, we've put together our favorite weekend program in this article. We'll take you from a UNESCO heritage apartment to a green fort. We'll suggest a few variations if you're visiting the city with children.
In the first part, we'll give you a few practical tips to help you prepare for your visit and make the most of your weekend.
Our opinion is completely independent, we travel anonymously and pay our admissions and bills in full.
Practical tips for visiting Le Havre in 2 days
1. Map of the main places to visit in Le Havre
We've put together a little map to help you find your way around the different places we suggest you visit during your stay in Le Havre (coming soon).
2. Weather: be prepared
It's customary in Le Havre to say that the weather is fine"several times a day". Bordered by the English Channel, the city is often subject to westerly winds with their share of showers.
However, contrary to popular belief, the city doesn't get all that much water, lagging far behind the big cities of Rhône Alpes (Lyon, Grenoble…) and south-west France (Bayonne, Pau). Legends can be tenacious…
Nevertheless, we advise you to bring rain gear and avoid umbrellas. With the wind, they'll be turned inside out and won't be of any help to you!
3. Drive smart
Le Havre is one of the world's most walkable cities. We owe this to reconstruction, which left us wide streets with a square layout that makes it easy to get around, whether on foot, on a scooter (self-service rental service), by bike or by car.
Parking is relatively easy and, if you park on the outskirts of the city center, free. If you're coming by car, we strongly recommend that you park on the seafront, the ideal starting point with plenty of parking spaces available.
The public transport network is fairly dense, with a tramway line that irrigates the city and a high-quality bus network.
4. Choose a downtown hotel
To avoid wasting time, opt for a hotel in the center of Le Havre. You can either opt for the sea view at the friendly Hilton, or immerse yourself in thePerret atmosphere at the Pasino, housed in Le Havre's former stock exchange.
In our article on the 8 best hotels to stay in Le Havre, you'll find a whole range of options to make the most of your weekend in Le Havre.
5. Book
Le Havre is not a tourist mecca, but with the renewed interest in the city and the many cruise ships that come and go during the summer, we recommend you make a reservation:
your visit to thePerret show apartment
your restaurants – tips in this article or see the list of the best restaurants in Le Havre (coming soon)
OUR ADVICE FOR

RENTING A CAR

IN

Normandy
Compare prices on our preferred platform: DiscoverCars – one of the best rated sites.
Choose a car that is comfortable enough (distances can be long) but compact (some parking lots and villages are narrow).
Think of thecomplete insurance (some roads are tortuous and narrow).
There is a lot of demand, book it early.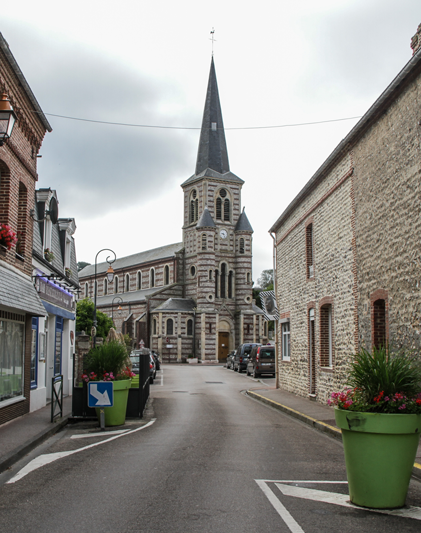 Our ideal program for a weekend in Le Havre
Would you like to know all about Le Havre, a battered port city that has risen from the ashes? Want to know all about the landscapes that inspired so many Impressionist and Fauvist painters? Looking for a gourmet break? Our ideal program combines all this and more… Let's get started!
Saturday – 9-10am: discovering Perret architecture
Your tour logically begins with the most visible feature, thefamous Perret architecture, long reviled but now a UNESCO World Heritage Site (2005).
To grasp its subtleties, we recommend strolling along Rue de Paris, which leads from the waterfront to the imposing Hôtel de Ville.
Here, there are no scrolls carved into the stone or half-timbered houses, but rather reinforced concrete buildings, the favorite material ofAuguste Perret, the great architect of the reconstruction of a city 82% destroyed in September 1944.
In addition to the American-style layout of the city, with its wide avenues that you'll enjoy strolling along, take time to admire these shades of concrete: brushed, rough, grey, pinkish (a shade obtained by adding powdered Vosges sandstone to the concrete)!
Each building is built on a highly geometric structure with a 6.24m spacing between each column (6.24 corresponding to the maximum span and having the advantage of being easily divided by 2, 4, 6…). Each column is connected horizontally by a beam. We're simply talking aboutpost-and-beam architecture!
Saturday – 10am-11am: tour of the Perret show apartment
The reconstruction of Le Havre lasted almost 20 years, from 1945 to 1964, a period of innovation and changing lifestyles. Perret's innovative architecture is also reflected in the interiors, which have been redesigned to offer the best of modernity (garbage chutes, bathrooms with bathtubs, centralized forced-air heating…) to the 30,000 people of Le Havre who lost everything in the bombardments.
Our grandparents were among the first to be rehoused in the post-war period, after several years selling their wares in construction site barracks (they were shopkeepers). We were lucky enough to spend a large part of our youth in a very pleasant Perret apartment.
In 2005, the town had the good idea of offering visitors the chance to explore a show apartment. It corresponds in every respect to those presented to Le Havre residents during the city's reconstruction, with a reconstruction of the furniture and appliances offered at the time. The aim was to convince the people of Le Havre to succumb to the "charm" of reinforced concrete…
The 50-minute tour takes you back to a time when everything was possible again!
Saturday – 11am-11.30am: Oscar Niemeyer's volcano
As you stroll along rue de Paris, you'll have noticed these 2 strange volcano-shaped buildings. All in white, they contrast with the rigorous Perret architecture.
They are the work of the brilliant Brazilian architect Oscar Niemeyer, responsible for Brazil's new capital, Brasilia.
Le Volcan not only houses a theater, but also, since 2015, a magnificent library that is the pride of the people of Le Havre. Take the time to explore this space dedicated to culture and open to all. You'll discover what goes on behind the scenes of these buildings, but also the meticulous decoration that makes the place truly unique and conducive to reading. We love it!!!
Saturday – 11:30 a.m. to 12:30 p.m.: Église Saint Joseph
Finish your architectural tour with the city's most emblematic building, Saint Joseph's Church. A true beacon of the city, with its 104-meter-high lantern tower, it symbolizes the rebirth of the city.
In addition to the use of reinforced concrete, it will surprise you with its luminous ambience emanating from the 12,768 colored mouth-blown tiles that make up its non-figurative stained glass windows.
We strongly recommend that you visit at a time when the sun is shining on the church, so that you can make the most of it. For more information and photos, see our article on Saint Joseph's church.
USE OUR GUIDE TO PLAN A


DREAM TRIP

TO

Normandy
All the information you need for your trip:
8 maps that make planning easier
160+ pre-selected locations
Practical advice
300+ photos to help you choose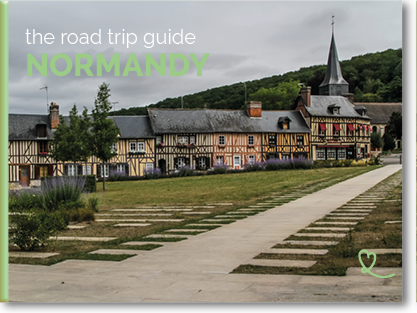 Saturday – 12:30-14:00: lunch at "Le bouche à oreille" restaurant
A quality little table 2 steps from Saint Joseph church. The menu is short and creative, with excellent value for money.
We work with traditional products (fillet of beef, fillet of sea bream…), but we add little touches of flavor (shiitake mousseline, sea urchin or seaweed cream…) that transport you.
Dishes are carefully presented, and the wine list is short but well thought-out, focusing on the most emblematic appellations of France's great wine-growing regions.
Saturday – 14h-15h30: the MuMa
Now that you've regained your strength, we'll take you on a tour of Le Havre's rich artistic history. Take the Cours François Ier to reach the MuMa.
The MuMa, or André Malraux Museum of Modern Art, is the Le Havre museum to visit during your weekend in Le Havre.
First and foremost for its building, ideally positioned opposite the entrance to the port, with large windows to delicately bring the skies and light of Normandy into the works of the painters on display. A technical and architectural feat that creates a warm, inviting atmosphere.
For its rich collections, mainly aroundImpressionism and Fauvism. Le Havre, a city that has inspired so many artists, played an important role in the history of these 2 major artistic movements. During your visit, you can admire paintings by Claude Monet, Eugène Boudin, Raoul Dufy…
Find out more in our full article on the MuMa.
WHERE TO STAY

IN

Le Havre
---
Option 1: seafront
With beautiful views over the horizon, we recommend it:
---
Option 2: downtown
Surrounded by Perret architecture and works of art, we recommend..:
---
Option 3: next to the station
For convenient access to all forms of transport, and modern hotels, choose the station. We recommend..:
Saturday – 3:30 pm – 5 pm: Le Havre beach and its works of art
We now offer you a long, beautiful promenade along the seafront, where you can enjoy the sea and discover monumental works of art.
In fact, the town is blessed with a long seafront that runs for a full 5 km without you having to cross a single road. Ideal for runners like us, and a real paradise for slide fans and walkers alike.
Once again, we've put together a comprehensive article on everything you need to know about Le Havre beach (aren't we kind?).
The container catena
This sculpture of 21 containers was created by French artist Vincent Ganivetfor the 500th anniversary of the city of Le Havre in 2017. With its bright colors and natural setting at the intersection of the port and downtown Perret, it has become Le Havre's "Eiffel Tower". To be verified, but surely the most Instagrammed place in Le Havre.
Sculpture "Jusqu'au bout du monde" (To the end of the world)
Now located at the end of the 300-meter-long breakwater that protects Le Havre's marina, this 6.24-meter-high statue by Fabien Mérelle depicts a father with his daughter looking out towards the horizon. Take the time to watch it silhouetted against the sky and the Perret architecture in the background – it's magical! A must for our many seaside walks.
UP3 statue
We continue up the waterfront, this time with the work of Sabina Lang and Daniel Baumann (L/B), a Swiss-American creative tandem. As an extension of the "porte océane" (a group of 2 buildings at the end of avenue Foch, which opens onto the sea), this work, which was intended to be temporary, has in 5 years become an essential part of the town's heritage.
We love the play of light and shadow, and the multi-dimensional setting that lets us look at the sea and the setting sun from different angles.
The regatta pier
Continuing along the seafront, a change of artistic era with the famous "estacade" for regattas. We're right opposite the Palais des Régates, a favorite haunt of Le Havre's high society since the late 19th century.
Countless painters have depicted it, from Impressionist Claude Monet to the greatest Fauvist painters (Marquet, Raoul Dufy…).
FOR ADVICE ON


QUALITY

Support us
Do you appreciate all the free content you find on our blog?
Our independence, the only guarantee of qualitytips, is partly based on your generosity!
We offer you to give us a coffee (or several) in the hope of sharing it with you one day in person!
Saturday – 5pm-6pm: get some height
Even if you start to feel tired, we recommend you take the stairs or climb up the hill to the cliffs of Cap la Hève.
The Dufayel or Nice Havrais building
This small neoclassical palace was built at the beginning of the 20th century to accommodate high society vacationing in Sainte-Adresse, Le Havre's seaside resort. A special feature of the building's history is that it housed the Belgian government in exile during World War 1, making this small commune of just a few thousand inhabitants the capital of Belgium!
The orientation table
A few more efforts and you're halfway up the cliff, at the orientation table.
You'll enjoy a beautiful view of the waterfront and Le Havre city center. If the weather is clear, you can also make out the towns of Honfleur, Deauville and even Caen, which lie on the other side of the mouth of the Seine.
Saturday – 8-10pm: Dinner at Margotte
After (graciously…) 2 hours' rest at the hotel, we recommend dinner at the Margotte restaurant.
Located on the edge of the Saint-François district (rebuilt after the war but according to its original 1541 plan), this restaurant is, for us, a must in Le Havre.
Chef Gauthier Teissère brings out the best in local produce in a warm and friendly atmosphere. The dishes are full of beautiful flavors, beautifully presented, blending textures and enchanting aromas.
Alternatively, if you'd like to take advantage of your stay to discover the excellence of French gastronomy, head for "Jean-Luc Tartarin", one of our starred artists.
USE OUR GUIDE TO PLAN A


DREAM TRIP

TO

Normandy
All the information you need for your trip:
8 maps that make planning easier
160+ pre-selected locations
Practical advice
300+ photos to help you choose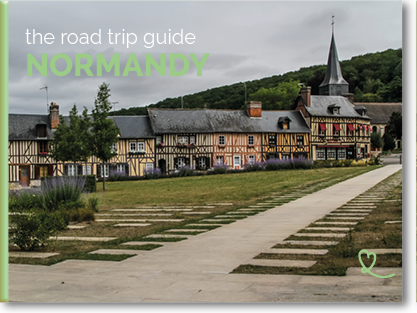 Sunday – 9:30-10:45: Les halles
Irrigated both by imports from the port and the rich agricultural production of the surrounding countryside, Le Havre is a city where it's good to eat.
In the covered market hall, you'll find 22 top-quality food shops (butchers, fishmongers, fruit and vegetables…).
Special mention for the 2 cheese makers, who will help you discover, among other things, the AOPs of Normandy, about which we've already written a full article!
A special dedication to the spice merchant , who knows how to add depth to all our dishes (did you know there's a Breton curry?).
Around the halles, opt for the Checa bread from boulangerie Portier, the cocoa-rich chocolates from Maison Auzou (especially their 100%…), and the haute couture cakes from Hautot (which grace all our Sunday meals).
The world's leading coffee-importing port since 1815, and even number one until the 1930s, the city has preserved its roasting know-how. Take in the aroma of freshly roasted coffee at Maison Duchossoy or enjoy a specialty coffee at the Ombra Coffee Roaster.
On Sundays, the Halles Couvertes du Havre will also host a farmers' market to further expand the range of products on offer!
Sunday – 10h45-12h30: Tour of the port by speedboat
Back to the nearby waterfront, to embark at 11am for a tour of the impressive port of Le Havre.
Departing from the marina, opposite the Hilton Hotel, you'll board a small, 100-seat speedboat for a 1.5-hour tour.
For the first half-hour, you'll be able to see from the sea the various breakwaters that protect the port of Le Havre, and admire a horizon that might just give you a hankering for the high seas!
You then enter Port 2000, the container port built in the 2000s. It is adapted to the constraints of this type of transport (large storage areas) and to the challenges of profitability (capacity to handle very large ships 24/7).
Depending on the rotation of the ships, you may have the chance to admire one of these giants of the seas, as we did.
To round off the tour, we return to Le Havre's outer harbor to explore the cruise terminal.
OUR ADVICE FOR

RENTING A CAR

IN

Normandy
Compare prices on our preferred platform: DiscoverCars – one of the best rated sites.
Choose a car that is comfortable enough (distances can be long) but compact (some parking lots and villages are narrow).
Think of thecomplete insurance (some roads are tortuous and narrow).
There is a lot of demand, book it early.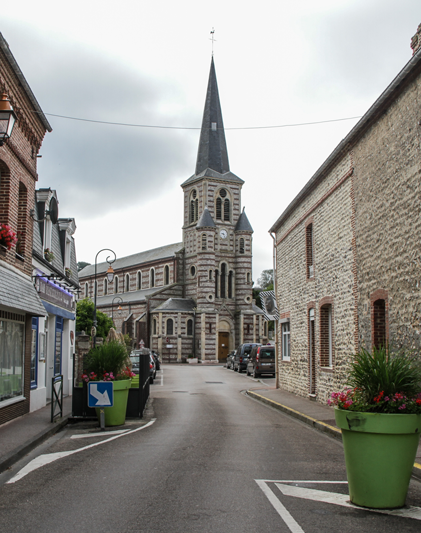 Sunday – 1pm-3pm: Lunch at Le Grand Large
You return to the waterfront for lunch at Le Grand Large. This restaurant offers a beautiful 180-degree view of the sea, in a particularly bright room (if the sun is shining, of course). We love the old-fashioned atmosphere of these "Sunday restaurants", reminiscent of long family meals.
Aside from the view, the food is top-notch, frankly traditional (gravlax salmon, veal kidneys flambéed in cognac…) but well executed!
The whole is very coherent, and you should have your fill of the sea just a few hours before departure.
Sunday – 3pm-5pm: The hanging gardens
To round off this wonderful weekend, we invite you to discover one of Le Havre's most surprising green spaces: the Hanging Gardens.
Located in theformer fort of Sainte-Adresse, they magnificently overlook the lower town of Le Havre, offering a magnificent view of the port and the sea.
Over the 17 hectares, you can admire 3,700 species grouped by continent, a veritable ode to travel. Once again, the natural setting and the object seem to respond to each other, enhancing the experience tenfold!
In addition to the rich plant collections that have earned it the " jardin remarquable et botanique" label, two contemporary works of art are on view in spring and summer. A friendly tearoom invites you to take a well-deserved and enjoyable break!
Sunday – 10pm: the souvenir factory
You're back home and we hope you enjoyed your stay in Le Havre.
If you've got any energy left, we'd love to hear from you. a little feedback of your weekend, what you liked, what disappointed you, information to add… In short, anything that might be useful to the Normandie Lovers community, of which you are now a member for life!
FOR ADVICE ON


QUALITY

Support us
Do you appreciate all the free content you find on our blog?
Our independence, the only guarantee of qualitytips, is partly based on your generosity!
We offer you to give us a coffee (or several) in the hope of sharing it with you one day in person!
Weekend in Le Havre with children
With children, the exercise can be a little more arduous. They have to walk a bit to enjoy Le Havre, and can remain impervious to the charms of the city rebuilt by Perret. Here are a few options to get them in the mood!
The dockside pool
Designed by Jean Nouvel, the dockside swimming pool is ideal for family relaxation. 8 of the 10 pools in the swimming pool designed bystar architect Jean Nouvel are covered. They offer a variety of experiences (slide, safe water play area, family spa…) to delight young and old alike.
If you have the same problem with Eugenie as we did, the only difficulty you'll have is getting them out of the water and back in.
The Montgeon forest
Our shopkeeper grandparents used to come here for Sunday strolls in search of peace and quiet. This 270-hectare forest is a real part of the city, and in addition to its lush natural surroundings, it offers a wide range of activities for children (wooden games, acrobranches, etc.).
Almost entirely returned to pedestrian use over the years, it is now more than ever a protected area, accessible by tramway from the town center.
A snack at Calice et mandibule
The owners, themselves young Mums, are happy to welcome children to share one of their succulent and original cakes and juices. Although they may be taken aback by the ingredients, their taste buds will ultimately be delighted by the experience.
The Volcan Library
Completely redesigned in 2015, the "little volcano" designed by Oscar Niemeyer is home to a magnificent library with a decor that is both conducive to reading and seductive to the eye.
They should find plenty to feed their insatiable curiosity among the 116,000 documents available. The icing on the cake is that there's even an area dedicated to video games!
The beach in summer
In fine weather, the beach is of course a meeting place for families. They may need a little time to get used to walking on pebbles, but once they're in the water, they'll soon forget all about it.
Haven't you had enough yet?
If you're eager to discover new things and don't want to miss a thing during your weekend, we invite you to discover our "What to do" article, which compiles almost all the things to do and see in Le Havre!