Thinking of a weekend in Honfleur in winter? It's a good idea: the atmosphere and the beach offer you a completely different experience from that of summer, an enchanting getaway full of charm.
Here are our tips for visiting Honfleur in winter: activities, weather, temperatures…
And a few tips for spending Christmas or New Year in Honfleur.
This opinion is completely independent, based on our experiences. We visited the area anonymously, making our own choices, and paying all our bills in full.
Visiting Honfleur in winter: is it worth it? Our review
Our review
Yes, we enjoy Honfleur even more in winter than in summer. We love its winter lights, painted by numerous artists, warming up in a tea room, and enjoying the alleys and all the history of the city more quietly. It's a completely different atmosphere!
We strongly recommend that you take advantage of one of your winter weekends to admire this pearl. See our hotel tips.
Honfleur harbor retains its charm all year round, but in winter it seems even quieter. The docked boats and the reflections of the lights in the water create scenes worthy of postcards. It's the perfect time for a romantic stroll along the quays.
The cobbled streets, colorful facades and traditional boats offer excellent opportunities for photographers, with the added bonus of soft winter lighting.
The town has inspired many famous artists, including Eugène Boudin and Claude Monet, and you can discover their work in local museums. And you'll be able to fully understand why, without the crowds crowding the alleyways and the hustle and bustle.
Advantages of visiting in winter
The atmosphere is more peaceful
The city's charm is even more apparent in the crowds in front of it.
You can also enjoy magnificent sunsets before going out to eat, and then the charm of the city by night.
It's even nicer to warm up in a tea room!
It's much easier to cross the city by car
It's much easier to park
If you come in December, you can enjoy the atmosphere of the Christmas market with chalets around the Vieux Bassin.
Disadvantages
There's more chance of rain
The days are shorter (but that adds to the atmosphere, in our opinion).
Fewer events and activities
Some restaurants are closed
Some galleries are closed
Eugène Boudin Museum closes for part of January
Naturospace closed in January
Temperatures not ideal for enjoying Butin beach
WHERE TO STAY

IN

Honfleur
---
Option 1:
Choose a historic house near the old port.
---
Option 2:
Choose a hotel higher up for more peace and quiet while remaining close.
---
Option 3:
A bit of luxury in the surrounding countryside.
Weather, temperatures and conditions
In winter, the average temperature in Honfleur is around 4 to 5°C.
You'll need to cover up with a good coat.
It rains a little more than in summer, but not all the time. You can have beautiful sunny days.
As it's winter, the days are shorter. This allows you to admire the sunset before dinner.
It can snow, but as it's by the sea, the snow never lasts long.
USE OUR GUIDE TO PLAN A


DREAM TRIP

TO

Normandy
All the information you need for your trip:
8 maps that make planning easier
160+ pre-selected locations
Practical advice
300+ photos to help you choose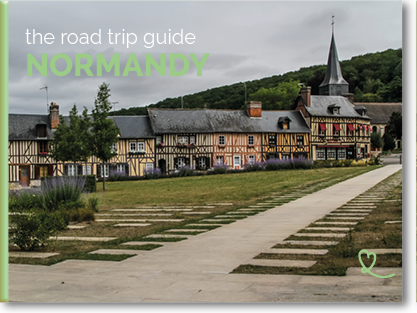 Best things to do in Honfleur in winter
In winter, activities are pretty much the same as in summer, apart from swimming and sunbathing.
You can:
stroll around the old port, surrounded by tall, narrow houses in a variety of colors
visit Sainte-Catherine church, built entirely of wood – a rarity in France
admire the view from the Mont-Joli panorama with the Pont de Normandie in the background
admire the Lieutenance, a magnificent 18th-century building
explore the narrow streets and half-timbered houses. But don't wear heels, the streets are made of small cobblestones!
admire the works in the galleries and workshops that remain open
discover magnificent works in the Eugnène Boudin museum
go back in time in the Musée d'Ethnographie: 12 exhibits showing how people lived in Normandy (with old objects) and the old prison.
Visit the Naturospace butterfly hothouse (except in January, when it's closed)
explore the garden of personalities
Find out more in our article on the best things to do in Honfleur.
How to get to Honfleur
You can't reach Honfleur by train. There is, however, a bus service from Normandy's major cities.
The simplest solution is the car
You can also take a bus tour from Le Havre if you are on a cruise
Or maybe your cruise stops directly in Honfleur and you can take advantage of it!
OUR ADVICE FOR

RENTING A CAR

IN

Normandy
Compare prices on our preferred platform: DiscoverCars – one of the best rated sites.
Choose a car that is comfortable enough (distances can be long) but compact (some parking lots and villages are narrow).
Think of thecomplete insurance (some roads are tortuous and narrow).
There is a lot of demand, book it early.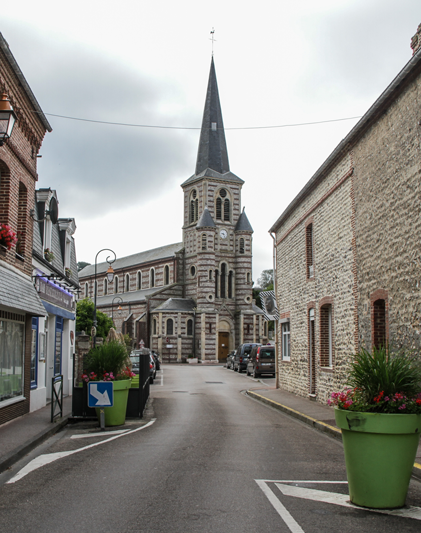 Christmas in Honfleur
As Christmas approaches, Honfleur's cobbled streets are lit up with festive lights. Half-timbered houses, art galleries and boutiques are adorned with sparkling decorations, creating a warm and enchanting atmosphere.
In the second half of December, the "Un Noël à Honfleur" events are in full swing, with shows for children (and adults too). Santa Claus and a little train are also sometimes present.
Honfleur's Christmas market is a hidden treasure of the winter season. Wooden chalets line the Place de l'Hôtel de Ville and Place Arthur Boudin, offering handmade products, Christmas decorations, crafts and local specialties. Enjoy mulled wine, crêpes and other delicacies as you explore this intimate market.
New Year's Eve in Honfleur
Several restaurants prepare special New Year's Eve menus to delight your taste buds, but the village remains fairly quiet.
Take a look at our list of favorite restaurants in Honfleur and see if they have a special menu.
You can also take part in the local January 1st bath. In Normandy, it's a tradition in many towns. This should wake you up if you drank too much the night before! But be sure to take something to warm you up afterwards.
SHE MADE THE TRIP AND WROTE THE ARTICLE

Claire