Planning a 1-day visit to Caen? You're right, Caen is a city on a human scale, and you'll have plenty of time to discover its riches: historical and artistic heritage, green spaces, there's something for everyone!
Seduced by the charm of its half-timbered houses and its good addresses, we take you on a trip to the City of William the Conqueror.
In this article, we suggest 4 itineraries to visit Caen in 1 day. Don't miss our practical tips and our many photos to make sure you don't miss a thing of your stay!
This opinion is completely independent, based on our experiences. We visited the area anonymously, making our own choices, and paying all our bills in full.
Video: the best things to do in Caen
Practical tips for visiting Caen in 1 day
The weather in Caen
To get to Caen, it's best to visit in fine weather, from May to September. Autumns are cool and often rainy. We advise you to avoid winter, as some tourist sites and museums close in January.
As a general rule, the weather in Normandy is quite changeable, and Caen is no exception. We recommend that you bring rain gear and plan indoor activities in case the weather turns nasty! For rainy day ideas, check out our articles on the best museums in Caen and our 12 ideas for things to do in Caen.
Walk or take public transport
Caen is a town on a human scale, making it a pleasant place to stroll around. The main points of interest are within walking distance. Only the Memorial and Bird Hill are far from the city center. It takes about 30 minutes on foot to get there. You can also opt for public transport. Bus and streetcar services are well developed in Caen. It's also easy to get around by bike, with numerous Vélolib stations available in the city. To find out more, visit the official Caen transport network website here.
Affluence and anticipation of bookings
Attendance in Caen is moderate, compared with other Normandy towns such as Rouen. Outside the summer months, you'll be struck by the liveliness of the bars and the Vaugueux district, as Caen is above all a student town! However, we advise you to book your tickets early for certain tours, such as the Memorial. This tourist mecca welcomes an average of 400,000 visitors a year!
Due to the presence of this international memorial site, hotels can be overcrowded. Check availability for your dates now, or see our article on the best hotels to stay at in Caen.
Map of Caen's main museums
Choose City-Pass
The City of Caen has set up a "city-pass", enabling you to benefit from reduced rates at museums in and around Caen, as well as discounts at numerous partners (restaurants, shops, leisure activities, etc.).
The City-Pass can be purchased for 24, 48 or 72 hours, with or without transport. For more information, visit the official tourist office website here.
Where to sleep in Caen
---
Option 1: in the old town center
We recommend..:
---
Option 2: to Ouistreham
To sleep more in the countryside or near the beach (15 to 20min from Rouen). We recommend..:
---
Option 3: near the port or station
We recommend..:
Option 1 – Caen's must-sees in 1 day
You've only got a day to enjoy the best of the Calvados capital? Embark on a day of discovery!
9am-12pm: Visit to the Caen Memorial
Let's start your day with a must-see: the Memorial. You can't leave Caen without visiting it! Inaugurated in 1988, it retraces the history of 20th-century conflicts, from 1914 to the fall of the Berlin Wall. We were impressed by its modern, immersive scenography, capable of arousing visitors' emotions.
The Memorial is first and foremost a place of remembrance. The museum is surrounded by Canadian, American and British gardens, to honor the memory of the Allied soldiers who took part in the D-Day landings.
---
Discover our article dedicated to the Caen Memorial!
---
FOR ADVICE ON


QUALITY

Support us
Do you appreciate all the free content you find on our blog?
Our independence, the only guarantee of qualitytips, is partly based on your generosity!
We offer you to give us a coffee (or several) in the hope of sharing it with you one day in person!
Day 1- 12pm-2pm: Picnic or lunch downtown
We reckon that the average visit to the Memorial and its gardens lasts 3 hours, but perhaps 2 hours will be enough for you. In that case, and if the weather is fine, we recommend a stroll and picnic in the Colline aux Oiseaux park, adjacent to the Memorial. Otherwise, we recommend lunch downtown, in the Abbaye-aux-Hommes district. We recommend you try one of our favorites:
Restaurant La Vraie Vie: this friendly bistro, with a refined menu that changes with the seasons, is sure to delight!
Restaurant Monsieur Louis: this gourmet restaurant is open on Sundays and offers children's menus, so don't hesitate!
Restaurant Les Gens Heureux: in the mood for simplicity? Head for Les Gens Heureux, a canteen offering daily vegetarian or meat dishes, but always gluten-free.
---
Our selection of the 15 best restaurants to eat out in Caen.
---
2pm-3pm: Visit to the Abbaye-aux-Hommes
As you'll have guessed, lunch in the Abbaye-aux-Hommes district was the perfect way to visit this impressive architectural complex! Adjacent to the Hôtel de Ville, it comprises a monastery and a church in which William the Conqueror is buried. In fact, it was this Duke of Normandy and King of England who had the monastic complex built in 1063. His goal? Regain the support of the Church, which he had disobeyed by marrying his cousin Matilda of Flanders!
During your visit, you'll discover rooms that are emblematic of monastic life (chapter house, boiler room, etc.), some of which are now occupied by the town hall. We were impressed by the superb Tuscan-style cloister!
---
Read our article dedicated to Abbaye-aux-Hommes.
---
3pm-5pm: Tour of the Ducal Castle
The day continues with a visit to another must-see: the Château de Caen. Built from 1060 onwards, it is one of the largest fortified enclosures in Europe! It bears witness to the city's power in the time of William the Conqueror, who made it his main residence. Over the centuries, the château has been transformed into a royal fortress and then a military barracks, reflecting the city's entire history! Only a few of the castle's rooms are open to the public, such as the Exchequer Room, where the King of England once resided.
---
Discover our article dedicated to Caen Castle!
---
17h-18h30: Snack break at Moon & Sons bar/restaurant
After all these beautiful visits, it might be time to take a break, don't you think? Head for the Moon & Sons bar/restaurant. With its atypical setting inspired by the world of Harry Potter, it's undoubtedly our favorite in Caen! The menu includes sweet and savoury vegan nibbles (cinnamon rolls, cookies, scones…) and a wide choice of original drinks, both alcoholic and non-alcoholic!
---
Our article on Moon & Sons bar/restaurant will be available soon.
---
6:30 pm – 7:30 pm: Stroll through the Vaugueux district
After a snack break, there's nothing like a digestive stroll! We'll take you for a stroll through Caen's emblematic Vaugueux district. With its half-timbered houses and narrow streets, this is the town's most popular tourist spot. This is one of the few parts of Caen to have been spared by the 1944 bombings. Here you'll find a charming medieval heritage, home to numerous bars and restaurants. Édith Piaf herself used to visit her café-owning grandparents here!
7:30-8:30 pm: Test a gourmet restaurant
Spending the evening in Caen before setting off again? Why not try a gourmet restaurant? We recommend ending your day at the Stéphane Carbone restaurant. Located on the marina, the chef revisits the Normandy terroir. His specialties? Lobster ravioli with lime or sautéed sweetbread apple.
USE OUR GUIDE TO PLAN A


DREAM TRIP

TO

Normandy
All the information you need for your trip:
8 maps that make planning easier
160+ pre-selected locations
Practical advice
300+ photos to help you choose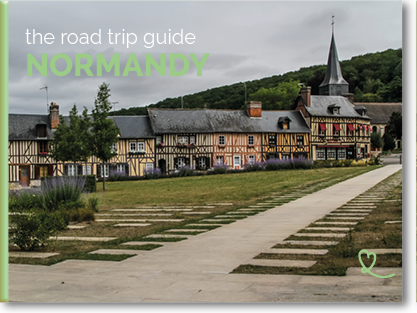 Option 2 – 1 day in Caen: 100% Memorial
The MémoriaI in Caen is an international memorial site. With its immersive tour, it gives visitors a better understanding of the conflicts of the 20th century. The permanent exhibition is divided into 2 main sections, one dealing with the 2 World Wars, the other with the Cold War. In addition to a temporary exhibition area, there are memorial gardens (Canadian, American and British) in memory of the Allied soldiers who took part in the D-Day landings.
It is therefore possible to devote an entire day to visiting this major tourist attraction. There's also a bistro inside the museum, where you can grab a bite to eat and continue your visit. We're sure you'll be as moved as we are by this immersive journey through the history of the 20th century!
OUR ADVICE FOR

RENTING A CAR

IN

Normandy
Compare prices on our preferred platform: DiscoverCars – one of the best rated sites.
Choose a car that is comfortable enough (distances can be long) but compact (some parking lots and villages are narrow).
Think of thecomplete insurance (some roads are tortuous and narrow).
There is a lot of demand, book it early.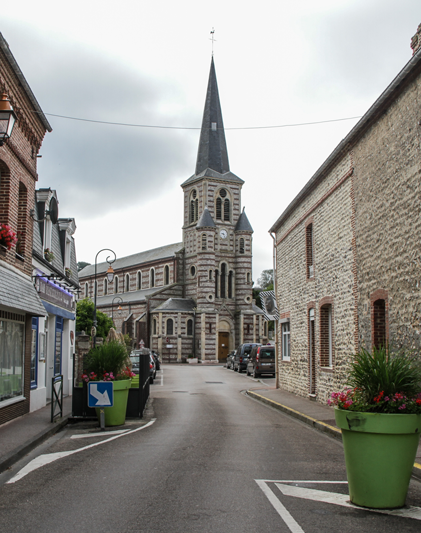 Option 3 – 1 day in Caen: the city in the Middle Ages and Renaissance
As you now know, Caen was particularly devastated by the bombing raids of 1944. We've put together an itinerary to help you imagine the city as it used to be!
10am-12pm: Visit to Abbaye-aux-Hommes
This day in the footsteps of Caen's historic heritage begins with a visit to the Abbaye-aux-Hommes. This impressive monument, made up of monastic buildings and a church, bears witness to the city's power in the time of William the Conqueror! On your way out, take a look at the Church of Sainte-Étienne-le-Vieux. Now in ruins, it gives a good idea of the scale of the bombing raids on Caen.
12pm-2pm: Lunch downtown
You're spoilt for choice when it comes to lunch in the city center. However, we recommend that you head to rue Saint-Sauveur to try one of our favourite restaurants! Here are our suggestions:
Restaurant L'Aromate: this bistronomic restaurant is a real favorite! With its sleek, sophisticated decor and refined cuisine inspired by the chefs' travels, we had a wonderful time!
Restaurant l'Okara: we really enjoyed this organic, ethical and friendly vegetarian canteen! Colors, flavours and a variety of textures are the order of the day.
2pm-3pm: Visit the Église du Vieux Saint-Sauveur and the Église Saint-Sauveur.
If you've been to any of the restaurants we've mentioned above, you've undoubtedly come across the Église du Vieux Saint-Sauveur. With its blend of Romanesque, flamboyant Gothic and Renaissance styles, this building is well worth a visit! Why not take a seat in the Square Camille Blaisot and admire its bedside table? From here, it's a 5-minute walk to Saint-Sauveur church. Built between the 14th and 16th centuries, don't hesitate to enter this monument with its many peculiarities: 2 adjoining naves that communicate with each other and a spiral staircase that leads to nowhere!
3pm-5pm: Visit to the Château du Ducal and the Musée de Normandie
Continue your journey to the famous castle of William the Conqueror. Some rooms are open to the public. One example is the Salle de l'Echiquier, where the Duke of Normandy and King of England received his court. The château also houses the Musée de Normandie, where you can learn more about the skills and lifestyles of the Normans, from prehistory to the first upheavals of industrial society!
5pm-5:30pm: Discover the Hôtel d'Escoville
We now offer you a plunge into the world of the Renaissance. It's just a 5-minute walk to the Hôtel d'Escoville, now home to the tourist office. The courtyard of this 16th-century town house is magnificent, with its characteristic Italian Renaissance features: loggia, high roofs and dormer windows. A well-hidden nugget not to be missed!
5:30-6pm: Visit to Saint-Pierre Church
You've already seen it from the castle: the impressive building next to you is St. Peter's Church. Built between the 13th and 16th centuries, its steeple is almost 80m high!
Don't hesitate to enter! The choir and the ornamentation of the apse will leave you speechless!
6pm-7pm: Stroll through the Vaugueux district
Once you've had your fill of Saint-Pierre Church, head for the neighboring Vaugueux district. It's in this lively place that you can most easily imagine what Caen looked like in the Middle Ages. You'll see narrow streets, little squares and, above all, half-timbered houses! The hub of Caen for locals and tourists alike, this Caen "Montmartre" is ideal for a drink or dinner!
7-8.30pm: Dinner in the Vaugueux district
These visits must have whetted your appetite. Do you have a little time before you leave the City of William the Conqueror? Make the most of the Vaugueux district with a meal in one of its restaurants:
Bar à Vins Les Quilles: if you're in a hurry, opt for this friendly wine bar. Here you'll find affordable sharing plates inspired by the culinary traditions of Normandy.
Restaurant Le Bouchon du Vaugueux: we enjoyed this convivial bistro cuisine that revisits the classics!
Option 4 – 1 day of family activities
10:30am-12:30pm: Visit to Caen Castle
A visit to Caen Castle is perfect for families! In addition to splendid panoramic views of the city, the walk around the fortified enclosure is a delight to do with children. They'll be able to get their exercise in the green spaces, and use their imagination in the rooms of the château or in the sculpture garden of the Musée des Beaux-Arts, which is open to the public. To find out more about this garden, read our article dedicated to the Musée des Beaux-Arts!
12H30-14H30: Lunch at Crêperie Gaby
After all that exercise, your children will surely be hungry. Why not opt for a family lunch at Gaby's crêperie? This restaurant, which we've listed as one of Caen's kid-friendly establishments, offers a wide choice of crêpes and galettes. Adults can enjoy an extensive menu of cider varieties, all in a friendly atmosphere!
2:30-5pm: Visit to Parc de la Colline aux Oiseaux
Located next to the Memorial, the Parc de la Colline aux Oiseaux is a must-see when visiting Caen as a family. In addition to a magnificent panorama of the city, this 17-hectare floral park offers a host of facilities to delight young and old alike, including an animal park, French and world gardens, a playground, a labyrinth and a splendid rose garden with almost 600 varieties of rose!
The whole family can also enjoy a round of mini-golf at the park entrance!
PLAN YOUR TRIP

TO

Normandy
---
---
---
Other ways to discover Caen: Natural Spaces
Are you a nature lover? Caen will seduce you with its many green spaces.
Explore the Jardin des Plantes
First of all, we suggest you recharge your batteries at the Jardin des Plantes. We were very interested by the variety of plants grown in this 3.5-hectare haven of peace in the heart of Caen. Regional flora, a collection of horticultural plants, exotic greenhouses, a medicinal garden, a rock garden and a landscaped park – there's something for everyone! With its playground and picnic tables, it's an ideal spot for families. Take advantage of the gardeners' presence to ask their advice, and don't miss the giant sequoia!
Enjoy the banks of the Orne
From the marina, we recommend a stroll along the banks of the River Orne. Here you'll find the start of the greenway linking Caen to Ouistreham. If you keep going, you'll come across the Chapelle du Petit Lourdes, the Château de Beauregard and the Château de Bénouville! You can also stroll along the right bank of the Orne, where you'll find a number of hiking trails.
All our tips in this article were put into words with the help of Fanny.