Bayeux is a city full of surprises. Moreover, if you are passing through the medieval city at the gates of the D-Day landing beaches, in front of its majestic cathedral, you will see a place with pretty colored shutters. Sip a tea, have a snack with homemade pastries like at Mamie's or have a brunch in this canteen, the tea room Les Volets Roses is indeed a must in Bayeux!
Let's go for an immersive and gustatory experience in a fairy tale setting that you won't soon forget.
Find in this article our opinion and all the practical information in pictures to prepare you for this unusual moment, whether it is a breakfast, a lunch, a snack or a brunch!
This review is completely independent, we ate anonymously and paid our bill in full.
Why go to Les Volets Roses tea room in Bayeux?
Is a snack or meal at Les Volets Roses worth it? Our review
We have very good memories of it. In the middle of this authentic tea room decoration from another time, we had the impression to have an appointment with Alice in Wonderland. We reassure you, Percy, the white rabbit of the famous cartoon, did not appear from between the tables with his clock shouting "late, late I have an appointment somewhere"!
The 3 reasons why we enjoyed this place:
An enchanted interlude out of time in a typical old-fashioned tea room.
A warm welcome, an intimate space and a service provided by mother and daughter.
Homemade pastries that delighted our taste buds accompanied by 1001 kinds of tea and homemade hot chocolate with milk.
In a word, we had a great time in this beautiful place and we will return without hesitation!
What you will eat there
Let's mention that we were there at snack time. Therefore, we opted instead for homemade pastries of the day and hot drinks:
Chocolate and salted butter caramel cake with whipped cream.
Chestnut, pear and chocolate cream cake with whipped cream and custard.
At the time of the tasting:
The homemade pastries, neither too sweet nor too heavy to digest (really), really melt in your mouth.
The balance between the ingredients is remarkable.
The mixture of flavors is sought after.
Waffles and ice creams are also available on the menu for snacks. And a French or English breakfast formula will allow you to enjoy the Volets Roses early in the morning!
If you go there for a gourmet lunch break, Les Volets Roses offers a variety of restaurants:
large salads,
hot croques served with green salad and vegetables,
club sandwiches,
a lunch formula with dish of the day and dessert,
a children's menu (dish, dessert and drink),
eggs in different forms (fried or in omelette)
Finally, in a small canteen format, Les Volets Roses serves a Sunday brunch with an orange juice and a hot drink accompanied by a succession of sweet and savory plates: savory pies, pastries, cheeses, fruits, bread, jams, cold cuts, scrambled eggs, bacon, cereals?
Once again, all dishes, sweet and savory, are homemade with fresh, local products!
USE OUR GUIDE TO PLAN A

DREAM TRIP

TO

Normandy

All the information you need for your trip:
8 maps that make planning easier
160+ pre-selected locations
Practical advice
300+ photos to help you choose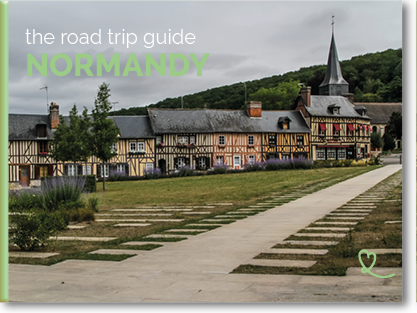 What you will drink
Note that there is a really nice menu of drinks to warm you up between the coffees, teas or the hot chocolate with milk. For our part, we opted for a Paris en fête tea and a homemade hot chocolate with milk, one of the house specialties!
If you prefer refreshments, you will have a wide choice of juices, still or sparkling water, sodas or syrups. Some alcoholic beverages are also available on the menu: you are more beer, wine or cider?
The atmosphere of this tea room which is also a canteen
Thus, the canteen tea room Les Volets Roses plunges you into a really exotic setting, decorated with much taste. Also, we felt like we were in the shoes of characters from a novel, drinking their old-fashioned china tea cups. Especially after visiting two places symbolic of the history of the city: the Bayeux Tapestry Museum a few minutes walk and the Notre-Dame de Bayeux Cathedral just across from Les Volets Roses.
Take the time to observe the scenery around you. Every detail catches the eye: the patterned dishes, the accessories and tea boxes, the colors, the paintings, the wallpaper, the knick-knacks, the postcards pinned to the wall, the antique furniture… All of this takes you into a world of softness and refinement.
Even the bathroom is very well decorated with lots of old toys to make the immersive experience really seamless. We love it!
FOR ADVICE ON

QUALITY
Support us
Do you appreciate all the free content you find on our blog?
Our independence, the only guarantee of qualitytips, is partly based on your generosity!
We offer you to give us a coffee (or several) in the hope of sharing it with you one day in person!
A little history
Les Volets Roses is a beautiful mother-daughter adventure that began in 2017 in Bayeux, Normandy. Agat, Sophie and Nathalie, alias Les Pipelettes Bayeusaines as they are called on the networks, opened this charming tea room – small canteen in front of the Cathedral Notre-Dame of Bayeux. They show a real desire to (re)immerse their customers in their childhood memories, whether through flavors, smells or decor. That's why we also salute the attention to detail in every corner of Les Volets Roses for an assured sense of wonder and travel.
USE OUR GUIDE TO PLAN A

DREAM TRIP

TO

Normandy

All the information you need for your trip:
8 maps that make planning easier
160+ pre-selected locations
Practical advice
300+ photos to help you choose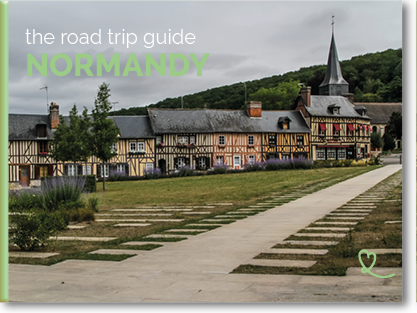 Why is Les Volets Roses tea room famous?
The homemade hot chocolate with milk and the homemade pastries are institutions at Les Volets Roses. Pies and cakes of the moment will be served at snack time but also for dessert at noon or for brunch on Sunday.
Arranged in beautiful boxes installed next to each other on the shelf behind the counter, the multiple kinds of tea on the menu of Les Volets Roses will delight you if you like this beverage. Green tea, black tea, flavored, natural, infusion, organic rooibos… You will have something for everyone with or without theine!
Finally, the magical fairy-tale setting makes it a truly atypical, even unusual tea room. When we walked through the door of this place, we found ourselves in another era, all sweetness and colors!
Practical information: Les Volets Roses, tea room in Bayeux
Type of catering venue
Unusual and atypical tea room, small canteen and sale of teas.
Schedules
Les Volets Roses are open every day from 8:30 am to 6:30 pm except on Wednesday when they are closed.
Les Volets Roses does not accept reservations outside of Sunday brunches. During the week or on Saturdays, you may have to wait a little before getting a table because the place is intimate and fills up quickly.
Where is the tea room Les Volets Roses
The tea room Les Volets Roses is located at 2 rue des Chanoines in Bayeux (14400) in Normandy.
Driving time from Caen: 30min.
Driving time from Mont-Saint-Michel: 1h30min.
Driving time from Ouistreham: 40min.
OUR ADVICE FOR
RENTING A CAR

IN

Normandy
Compare prices on our preferred platform: DiscoverCars – one of the best rated sites.
Choose a car that is comfortable enough (distances can be long) but compact (some parking lots and villages are narrow).
Think of thecomplete insurance (some roads are tortuous and narrow).
There is a lot of demand, book it early.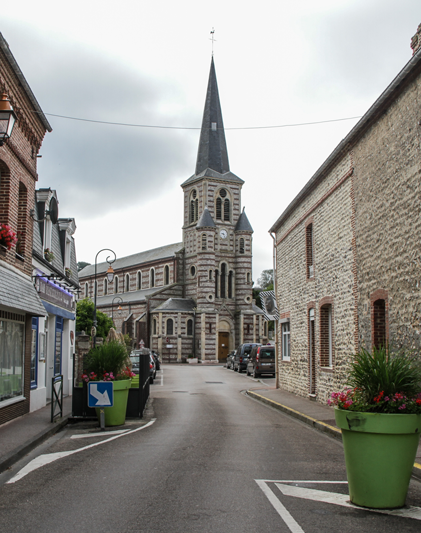 How to get there
The easiest way to get there is by car, but you can also get to Bayeux by train with regular trips every day – see train prices and schedules.
In front of the Notre-Dame de Bayeux Cathedral, you can see the pretty colored shutters of this charming place. Very well placed in the city, you can have a gourmet break between two tourist visits. You can also stroll through the narrow streets of the historic heart of Bayeux before or after your visit to the tea room Les Volets Roses.
Parking
We advise you to park a little higher up either in the rue des Chanoines or in the small streets around. Indeed, parking in the historic center is not necessarily easy. And it's also more pleasant to walk or bike around!
The menus
For breakfast, two formulas are offered: English with eggs, bacon and toast or French with pastries. Finally, for lunch, the menu includes a dish of the day and a dessert.
Hot snacks, salads and club sandwiches are a la carte.
Is Les Volets Roses tea room family friendly?
Absolutely! Your children will surely love the decoration and the refined dishes, each one more succulent than the other. Finally, the Volets Roses offer a children's menu for lunch. If you come with little ones, the very welcoming team will make room for your stroller.
The bill
For two hot drinks, two homemade pastries and two small bottles of water, the bill came to 25€. It is relatively correct with a good value for money considering the products, the atmosphere and the rather generous quantities. In a word, we were satisfied.
---
Option 1: Central and close to downtown
Within 5 to 10 minutes' walk of the historic center, you'll find beautiful mansions transformed into welcoming hotels and B&Bs. We recommend..:
---
Option 2: in the countryside
The Normandy countryside is very green and inspiring. At the bend in the forest or in the fields, pretty villages with beautiful buildings transport you to another world, or even another era.
---
Option 3: By the sea
The seaside is just 15 minutes drive from Bayeux. Breathe the sea air while enjoying easy access to Bayeux and the D-Day beaches.
Our top 3 things to do in Bayeux
Stroll through the alleys of the historic center
In a setting that is both authentic and warm, we were seduced by the charm of the historic heart of Bayeux. Indeed, the medieval architecture is well preserved. Take the time to stroll through the small streets of the center!
There is a lot to see while walking in Old Bayeux:
the old half-timbered houses, mansions or manor houses with turrets all over downtown,
the cobbled streets where their windows of craftsmen anddelicatessens display local products will surely make you envious,
the tourist wonders of the city remained intact despite the Second World War.
You will also have the possibility to visit Bayeux:
by taking the little tourist train of the city,
by following the explanatory markers and the bronze nails on the path of the Old Bayeux walking tour.
Visit the Bayeux Tapestry Museum
The Bayeux Tapestry, a UNESCO World Heritage Site, is on display in the town's former Major Seminary, or former Catholic college. Also, this exceptional embroidery tells thestory of the conquest of England in the 11th century by the Duke of Normandy, William the Conqueror. The Bayeux Tapestry is 68 meters long and about 70 cm wide, 50 cm of which are devoted to the embroidery itself. It is a didactic narrative in 58 scenes based on the model of a stained glass window. Historically, the design of this narrative embroidery was commissioned to adorn the nave of the Cathedral of Notre Dame in Bayeux.
Read our article dedicated to the Bayeux Tapestry with many photos and tips to make the most of your visit.
Visit the Notre-Dame de Bayeux Cathedral
The Cathedral of Notre-Dame de Bayeux is a centerpiece of the Old Bayeux circuit. With its medieval architecture, its stained glass windows, its crypt as well as its Romanesque and Gothic styles, it is a place not to be missed. The famous Bayeux Tapestry would have been embroidered in the 11th century to decorate its nave. If you go down into the crypt of the cathedral, be sure to look up to see the 15th century frescoes of the musical angels. In short, a listed monument not to be missed, illuminated from sunset onwards, which is also one of the stops on the Bayeux tourist train.
Read our article dedicated to the Notre-Dame de Bayeux Cathedral to find all our tips and our experience of visiting this magical place.
---
And to learn more:
---