Spending Christmas in Normandy is a memorable experience that lets you discover the magic of the festive season in a picturesque and authentic setting. Normandy, with its rustic charm, Christmas markets and delicious cuisine, offers a warm and festive atmosphere during the festive season.
Here's our guide to where to go for Christmas and what experiences not to miss.
This opinion is completely independent, based on our experiences. We visited the area anonymously, making our own choices, and paying all our bills in full.
Christmas in Normandy: is it a good idea?
Christmas in Normandy can be a great idea, but it depends on your personal preferences and what you're looking for in a Christmas experience. We love the warm atmosphere of the holiday season, the good food, and the beautiful scenery with its soft winter light.
Christmas weather and conditions
In terms of temperature, expect days to average between 0 and 5 degrees. It's often a little milder by the sea than inland.
It rains more than in summer, but you can also have wonderful sunny days. And even in the rain, the buildings retain all their charm, and you'll appreciate taking refuge in the warmth of a charming tearoom.
Sure, some museums and restaurants are closed, but you can enjoy the wide-open spaces of the seaside, and the charming villages with fewer crowds!
We particularly enjoy long seaside walks at this time of year, whether on the cliffs around Étretat or on the long sandy beaches around Deauville.
Must-see
Here's a quick summary of our favorite experiences:
Our favorite illuminations: Mont-Saint-Michel and Rouen Cathedral
Our favorite market: Rouen
Our favorite event: white parade in Le Havre
Our favorite landscapes without the crowds: the cliffs of Étretat
Christmas shopping: Honfleur for crafts and works of art, Deauville for luxury boutiques selling clothes, accessories and home decor…
OUR ADVICE FOR

RENTING A CAR

IN

Normandy
Compare prices on our preferred platform: DiscoverCars – one of the best rated sites.
Choose a car that is comfortable enough (distances can be long) but compact (some parking lots and villages are narrow).
Think of thecomplete insurance (some roads are tortuous and narrow).
There is a lot of demand, book it early.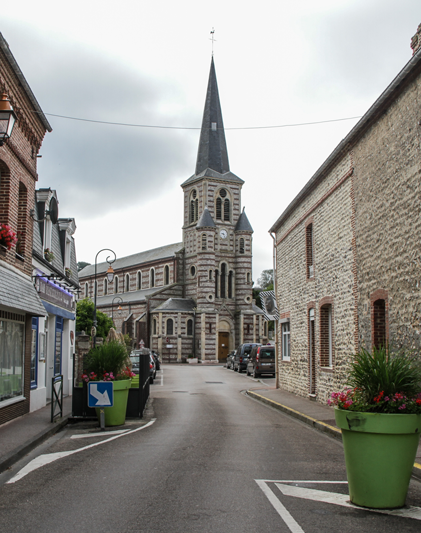 Where to spend Christmas in Normandy
Christmas at Mont-Saint-Michel
We recommend that you enjoy the magic of Mont-Saint-Michel combined with the magic of Christmas.
From December 15 to January 15, the village is decorated with pretty Christmas lights, making the main street even more magical.
Visit it at night, in the peace and quiet – it's unforgettable!
You can explore the ramparts, the main street and visit the abbey. Book your ticket now.
You can also enjoy a leisurely sunset before dinner.
---
See our reviews of the best hotels around Mont-Saint-Michel.
---
Please note that the abbey is closed on December 25 and January 1. And many stores and restaurants are closed. A Christmas mass is normally celebrated at the Abbey (and it's often packed). See the Fraternity calendar.
There are small Christmas markets in the region, but not on Mont-Saint-Michel, as the streets are too narrow. Just for one day, there's a small Christmas market in aid of the monastic communities.
Christmas in Rouen
Rouen is another of Normandy's must-visit Christmas destinations. Here you'll find one of the region's most famous Christmas markets. It takes place in the cathedral square, with crafts, Christmas decorations and food and drink stalls.
The city's illuminations are magnificent. Nothing beats a glass of mulled wine while admiring the lights on the cathedral. And then you can stroll through the cobbled streets surrounded by half-timbered houses and twinkling lights: a mixture of time travel and magic!
The whole period is called "Rouen Givrée", with a market, illuminations, children's activities and a Christmas village…
---
See our reviews of the best hotels in Rouen.
---
It's not just a tourist town, so it stays very lively, even in winter.
The main museums remain open, but close on December 25 and January 1.
Christmas in Le Havre
In our hometown, we love the Christmas season. A giant fir tree is set up in the town hall square, along with a giant wheel for views over the city.
The streets are wide, so it's a little harder to hang lights, but you'll still find streets with beautiful illuminations.
Christmas market huts are set up around the town hall and the Oscar Niemeyer theater, where you can find ideas for cakes and warm up with a waffle or mulled wine.
Every year, on a Sunday around Christmas, the White Parade takes place, with floats parading through the streets and a great atmosphere.
We also love winter sunsets, with their soft light and beautiful colors when the sky isn't too overcast.
---
See our reviews of the best hotels in Le Havre.
---
It's not just a tourist town, so it stays very lively, even in winter.
The MuMa art museum remains open throughout the winter. It closes on December 25 and January 1.
Christmas in Étretat
We enjoy Étretat more in winter than in summer. We love the winter lights painted by numerous artists, warming up in a tea room, and admiring the sublime landscapes in a quiet setting. It's a completely different atmosphere!
The town of Étretat remains calm at Christmas time. You can discover some of the lights that make the village even more enchanting.
Some designers still have their stores open, and you can find unique gifts for your loved ones as you stroll through the narrow streets.
---
See our reviews of the best hotels in Étretat.
---
We haven't seen any dates for a Christmas market in previous years.
The Etretat gardens with their works of art remain open in winter, but the Arsène Lupin clos closes.
Christmas in Deauville
Before Christmas, Deauville is decked out in lights, and we recommend an evening stroll through the town to admire the large buildings all lit up. The casino is particularly interesting at this time of year, with all the little lights along its walls.
The streets of Deauville are full of elegant boutiques, ideal for Christmas shopping. You can find unique gifts, designer clothes and much more.
The Christmas market normally takes place on a weekend in the middle of the month.
---
See our reviews of the best hotels in Deauville.
---
Christmas in Honfleur
As Christmas approaches, Honfleur's cobbled streets are lit up with festive lights. Half-timbered houses, art galleries and boutiques are adorned with sparkling decorations, creating a warm and enchanting atmosphere.
In the second half of December, the "Un Noël à Honfleur" events are in full swing, with shows for children (and adults too). Santa Claus and a little train are also sometimes present.
Honfleur's Christmas market is a hidden treasure of the winter season. Wooden chalets line the Place de l'Hôtel de Ville and Place Arthur Boudin, offering handmade products, Christmas decorations, crafts and local specialties. Enjoy mulled wine, crêpes and other delicacies as you explore this intimate market.
---
See our reviews of the best hotels in Honfleur.
---
Most museums remain open in December, but close in January.
Christmas in Falaise
Every year in December, Falaise puts on its fairytale costumes. The period is officially called "Les Féériques".
Light decorations adorn the alleyways, museum automatons are set up in shops, a decoration contest takes over the town, small chalets are set up and vacation shows are staged at the Château Guillaume le Conquérant and the Musée des Automates.
Other venues and events
You can also enjoy other discoveries at Christmas:
The Domaine d'Harcourt and its arboretum offer a luminous and sonorous nocturnal tour under the century-old trees.
Lights in the charming center of Bayeux around the cathedral
Évreux, its Christmas market and temporary ice rink
A decorated tour of the Domaine du Champs de Bataille castle, some years over a weekend
…
Charming hotels for cocooning holidays
If you're looking for a cocooning holiday in Normandy this Christmas, here are a few hotels we've really liked and recommend:
Hôtel Le Donjon in Étretat
If you're looking for charm and originality, look no further.
This is one of the most inspiring hotels we have stayed in.
The 3 buildings have been decorated with care. Between the stylish curtains, the textured wallpapers and the work on light, it is a fascinating discovery in every corner of the hotel.
Our room overlooked the pool and the trees. A real moment of relaxation.
It is a cocoon of relaxation between the trees, with a veranda filled with comfortable armchairs and a snack with homemade cake…
What more could you ask for? Not going out to eat? Of course, because you have the choice of 2 restaurants on site, one of which is starred.
Price range: 4 stars
Restaurant: 2 on the spot: one gastronomic and one bistronomic.
Family rooms: yes
Facilities: bar, pool, spa, snack bar
Parking: on site, free, charging stations
See photos, prices and availability – and book!
Hotel La Ferme Saint Siméon in Honfleur
Why stay at La Ferme Saint Siméon?
This host combines history, the charm of old buildings, estuary views, restaurants and magnificent gardens.
You will find a typical Norman building from the 17th century. Note the mix of blue-toned slate tiles and traditional half-timbered walls.
The rooms, where the impressionist artists stayed, have kept their charm.
We particularly appreciate the many little corners of the park that allow you to rest with magnificent views of the Seine estuary and the Pont de Normandie.
Price range: 5 stars
Restaurant: yes, 2 restaurants (Les Impressionnistes is a gastronomic and La Boucane is a bistronomic)
Family rooms: no
Facilities: spa, flower garden
Parking: yes, free on site
See photos, prices and availability – and book!
Hôtel Ferme de la Rançonnière, in the countryside
In a refined country atmosphere, we found the Ferme de la Rançonnière really authentic and quiet. We particularly appreciated the decorations mixing the wooden beams and the beautiful stones of the buildings.
And, in the quiet of the countryside, we were able to sleep very soundly! A true haven of peace in the countryside in a magnificent 4 star setting. Stéphane, the restaurant's head chef, revisits and honors regional products to delight your palate.
Location: Crépon, Normandy.
Price range: 4 stars.
Restaurant: yes.
Family rooms: yes.
Facilities: bar, children's games, wellness massage services, mini-farm, helicopter pad.
Parking: yes.
Limited winter overture
See photos, prices and availability – and book!
Hôtel Littéraire Gustave Flaubert in Rouen
With its ideal location, right in the center of Rouen, it's one of our favorite places to stay. We like the original concept based on the literature of Gustave Flaubert, the famous writer from Rouen: quotations from his novels, anecdotes…
What's more, to enter the hotel, you'll pass through a porch designed into a timber-framed house, and from your room you'll be able to admire the rooftops of old Rouen, with the spire of the cathedral looming in the background. Time travel in Rouen!
Area: old town, near the Vieux-Marché beach in Rouen
Price range: 4 stars
Restaurant: no, but close to all restaurants
Family rooms: yes
Facilities: gym
Parking: private, pay parking lot with recharging stations
See photos, prices and availability – and book!
FOR ADVICE ON


QUALITY

Support us
Do you appreciate all the free content you find on our blog?
Our independence, the only guarantee of qualitytips, is partly based on your generosity!
We offer you to give us a coffee (or several) in the hope of sharing it with you one day in person!
Christmas markets in Normandy
Normandy is not Alsace. There's no real Christmas market tradition.
The concept has grown rapidly throughout France in recent years, but you won't find anything on the level of Eastern markets. We prefer to be honest.
However, you can find many Christmas markets with their warm atmosphere all over Normandy. Some set up shop for the whole month of December, others just for a weekend in small towns or villages.
Note that in Normandy you can find mulled cider or mulled apple juice in addition to mulled wine!
Rouen Christmas Market
The biggest is the Rouen Christmas market.
Most of the chalets are located at the foot of the cathedral, on the main square. We were there last Christmas, but we didn't take any photos, we're sorry!
You'll find craftsmen, Christmas decorations and, above all, plenty of stalls selling drinks and sweets, because no Christmas market is complete without a glass of mulled wine!
Other permanent Christmas markets in December
Other towns with chalets and a Christmas market for most of December are..:
Le Havre
Caen
Honfleur (from mid-December)
Évreux
Temporary Christmas markets
And in many villages and towns, you'll find small Christmas markets on weekends that set up shop for one or two days. Among our favorite places for a Christmas market:
Cabourg
Dives-sur-mer in the medieval Halles
Villers-sur-mer
Cerisy la forêt
Bellême
Domfront en Poiraie
Dieppe
…
Christmas traditions in Normandy
And finally, here are a few Christmas traditions from Normandy. Who would have thought it?
Christmas log or "chuquet
It's well known that in France, cake stalls change their appearance around Christmas. Suddenly, even the most traditional cakes are taking on the shape of logs!
Why
Apparently, this comes from the Normandy tradition of burning a very large log on Christmas Eve, the "chuquet". The piece of wood was set up by the father of the family with last year's firebrands, and was intended to last for the 3 days of the festival.
Gifts in the "chabots" for Santa Claus
Some leave cookies and milk for Santa to replenish on his rounds.
Well, in Normandy, apples, oranges and sweets were placed in the hooves (chabots).
Les Haguignettes
We have to confess that we didn't know the area before writing this article, yet we grew up in Normandy and now live there.
This tradition is more for New Year's Eve and New Year's Day than Christmas, but since we're gourmets…
These are small puff pastry cakes cut into motifs (often animals). They're like miniature galettes de rois (which arrive in January).
This tradition dates back to the Middle Ages, but the name of the delicacy is thought to be of Gallic origin.
PLAN YOUR TRIP

TO

Normandy
---
---
---